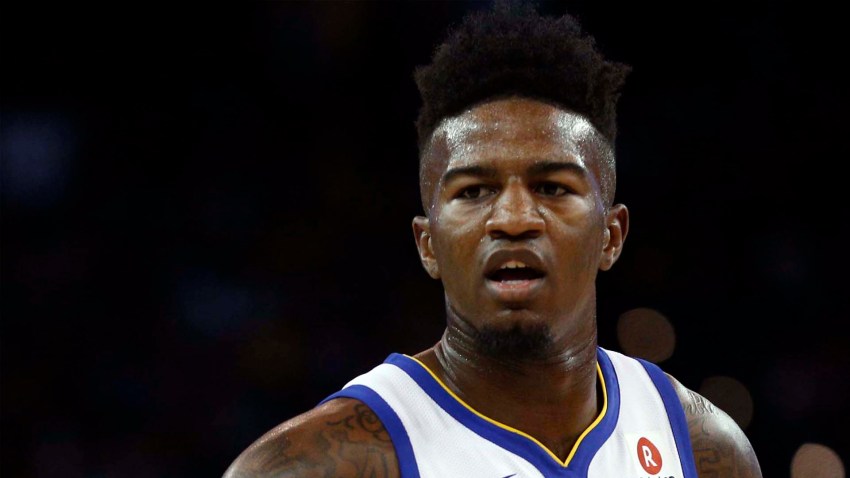 OAKLAND -- Some of Steve Kerr's experiments with playing rotations within a deep Warriors roster are bound to raise eyebrows, the latest example coming Friday.
Rookie forward Jordan Bell, who generally has been effective in four-to-six- minute stints, is inactive for the game against the Wizards at Oracle Arena.
This is the first time this season Bell has not been active, but he is the fourth different Warrior to be a healthy inactive this season, the others being 7-foot center Damian Jones, 6-9 forward Kevon Looney, and 7-foot center JaVale McGee.
"He's played in every game," Kerr, during his pregame news conference, said of Bell. "He's done a good job for us. It's not like I'm trying to teach him a lesson or anything. It's more that there's a lot to this game. There's a lot of nuance to the NBA game. And a guy in his position has a lot to learn."
Decisions on which players will be inactive in a given game are made by the coaching staff and almost always will be dictated by matchups against that particular opponent.
Small-ball reserves are more likely to be inactive against bigger teams, while bigger players are the top candidates to sit when facing smaller teams.
"I'm just trying to juggle the rotation, juggle the lineups, look at different things and use the early part of the season to figure what we have and how we're going to play it," Kerr said. "And to establish the fact that we're going to use every roster spot. We're going to use every player. But that means that some nights, guys aren't going to get a chance."
McGee appeared in 77 games last season, including 10 starts, but was inactive for the Warriors-Raptors game on Wednesday because the Warriors realized Toronto, without its top two centers, would be forced to play mostly small lineups.
Looney, who will be active Friday, played eight minutes on opening night but was inactive for the next three games. He was active against the Raptors but did not play and will be active against the Wizards.
Jones has yet to be active this season and is now on assignment with the Santa Cruz Warriors of the G-League.
"It's early in the season, we're establishing the fact that we're going to play everybody," Kerr said. "That some guys are guaranteed minutes every night, some guys aren't."
Bell will spend the evening in street clothes on bench beside assistant coach Chris DeMarco, Kerr said.
"It's a good night for him just to observe," he said, "and I wanted to get JaVale back out there. It just seemed like the right night."
Copyright CSNBY - CSN BAY