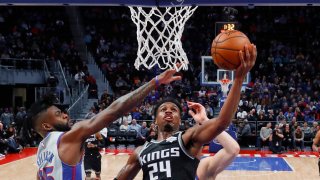 SACRAMENTO -- That loud thud heard through the Sacramento valley Monday night was the Kings stumbling in a 113-106 loss to the less-than-stellar Chicago Bulls at Golden 1 Center.
In the span of three days, the Kings beat one of the NBA's best teams and lost to one of the worst. Two days after topping the Denver Nuggets, Sacramento then lost to a team that entered Monday with a 6-14 record.
"We look at kind of a missed opportunity here," Harrison Barnes said after the Kings dropped to 8-11 on the season. "To go out and lose the way we did - us not matching their energy, is kind of unacceptable with what we're trying to build."
The Kings need to learn from their mistakes against the Bulls. After an 0-5 start to the season, they are in no position to overlook any opponent, especially on their home floor. They've done a nice job of bouncing back and playing competitive basketball, but the team's margin for error is already shrinking.
"It's a dog race where we're at in the standings right now," Barnes added. "Every game matters. You definitely can't afford to have too many nights where you take your foot off the gas."
There was a lot of disappointment to go around following the game. Buddy Hield, who missed a 26-foot 3-pointer that would have given the Kings the lead with 2:50 remaining in the fourth quarter, spoke on the frustration.
"You can't take teams lightly, it's a game we should have won," Hield said. "We were down by two, I went for the three to get us over the hump. I thought it was a good shot. The momentum -- the crowd was in the game. I wish I would have made that. The game could have gone different, but I like my chances and the team likes me taking that shot."
Hield finished the night with a team-high 26 points, but he knocked down just 3-of-13 from long range. The guard now is shooting just 36.5 percent from behind the arc after hitting 42.7 percent last season.
The Kings had the momentum Monday, and then it quickly vanished as his shot rimmed out.
"We're not shooting the 3-ball that well," Hield admitted after the game. "We've got to find it. I've got to find it. It's basketball, man. You've got to come ready to compete each and every day. You've got to love the grind, you've got to love the adversity that comes with it. That's it. You've just got to keep on fighting."
In addition to missing some big shots, the Kings also came out of the game even more beat up than they were before. Bogdan Bogdanovic looked a step slow and continues to struggle with his left hamstring.
"It was, but I don't want to make excuses again," Bogdanovic said when asked whether his hamstring was an issue. "I was just trying to play as much as I can. Obviously, I didn't help the team tonight to get this win, but I've got to move forward and see what I'm going to do with my hamstring."
Bogdanovic scored 11 points and handed out three assists in just 22 minutes of action. He's currently limited to six-minute stretches by the team's medical staff, but there is a possibility that he might need a break to heal up.
"I hate that I have to play [five-to-six] minutes at a time and then go out," Bogdanovic said. "It's really frustrating and messes with the rhythm of the play. You can't make excuses from it. You still have to find a way to help the team, which I didn't do, obviously."
[RELATED: Injured Fox, Bagley will continue to remain out for Kings]
It doesn't get any easier for the Kings moving forward, and they desperately need a healthy Bogdanovic as they venture out on the road for a four-game trip.
They'll start in Portland against the Trail Blazers, who have one of the best backcourts in the NBA. If Bogdanovic can't play, the Kings need someone else to step up their game and contribute in his absence.
Copyright C