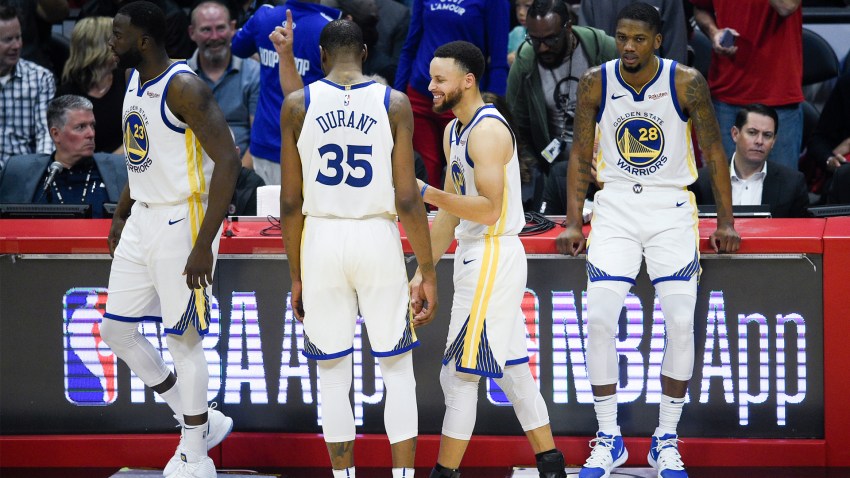 LOS ANGELES - Throughout the regular season, NBA schedule makers were good to the Golden State Warriors.
Over the 82-game stretch, the team hasn't had a start earlier than 5 p.m. local time, giving the Warriors adequate time to prepare for an opponent.
That will not be the case Sunday when the Warriors and Clippers will tip-off at 12:30 pm PT for an important Game 4 matchup at Staples Center. But even with the distractions that come with Los Angeles, Warriors players and coaches alike aren't fretting the new terrain.
"It's definitely different," Warriors forward Draymond Green said following practice Saturday morning. "You get used to playing at a certain time all year and then you play at noon, its a bit different but nonetheless, it's still basketball, it's still two rims and a round ball. You have to do what you got to do."
While its the first midday start for the team this season, Golden State has had some curious losses during early starts - particularly at home. Of the three losses in games starting at 5:30 p.m. PT, the Warriors have lost to the lottery-bound Suns and Mavericks by a combined 39 points. In a 5 p.m. PT Christmas day matchup against the Lakers, the champs lost by 26 points. Still, Warriors coach doesn't seem to be too worried heading into Game 4.
"We're not used to it," Kerr said. "But I think these guys are obviously young and athletic and they'll get going. If there's a slow start, they'll figure it out and they'll get going before too long so I'm not worried about it."
Adding to the early start conundrum is Los Angeles, a world-class city whose nightlife has struck fear into opposing coaches across the league no matter the team. Three years ago, when the Warriors were chasing 73 regular-season wins, the 13-win Lakers handed Golden State a 17-point loss following a Saturday night in Los Angeles. Even with that history, the champs don't see a repeat performance happening in the postseason.
"We've got to win two more times so you can't get too relaxed and enjoy LA too much," Kerr said. "We've got to get our rest for the rest of today and tonight and be ready to play tomorrow."
[RELATED: Draymond lost 23 pounds]
On Sunday, no matter when the game starts, the Warriors expects the Clippers' best shot before the teams head back to Oakland for Game 5 on Wednesday. Even after an impressive Game 3 performance, coaches and players alike know all too well what can happen when they're complacent.
"We haven't done anything yet," Kerr said. "Technically the series in on schedule for both teams. Even though we're up 2-1, we've had two home games they've had one so we have the momentum but we have to carry that through."
Copyright CSNBY - CSN BAY