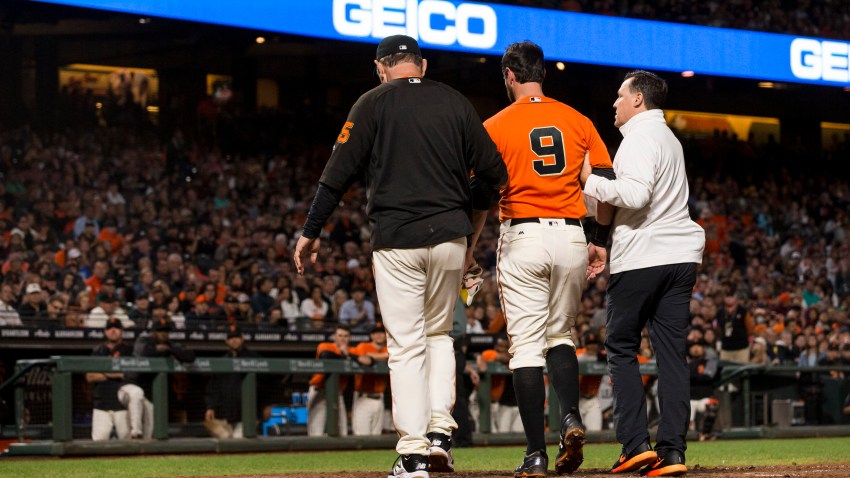 SAN FRANCISCO - It has been nearly two weeks since Brandon Belt walked out of AT&T Park with yet another concussion. On Friday he could take a big step.
Belt will do some light cardio in hopes of ramping up the rehab process. That is generally the biggest step for concussed players. Often times, that cardio session leads to a longer shutdown when the player feels discomfort from activity. The Giants are hopeful that Belt will report only positive signs.
"He seems to be doing a little better," manager Bruce Bochy said.
There is no timetable for Belt's return, but the club hopes to get him back in the heart of the lineup down the stretch. That leads to an obvious question: Why would the Giants play him? Belt has suffered four concussions in the last eight years and he is a member of a last-place team that's in a fight for the first pick in the draft. Doesn't it make sense to just shut him down, make sure he gets fully healthy, and prepare for 2018?
"I know there's talk about it, but I know for Brandon, he would like to get back," Bochy said. "You hate to go into the offseason with six or seven weeks of not playing again, but at the same time we'll make sure he's completely recovered. If not, we won't put him out there."
Part of the shame of all this is that regardless of when Belt returns, he will have missed an opportunity to really put his stamp on a nice season. Belt leads all first baseman in defensive runs saved (12) and he would have had a very strong argument for his first Gold Glove Award. It's possible he gets back in time to hold off Paul Goldschmidt and Anthony Rizzo. It's also possible he gets back in time to shatter his career-high in homers. Belt is at 18 for the second time in three years, and before he went down he was on pace for about 30. The Giants will have a better idea of Belt's ability to return on Friday.
As for the other concussed Giant, there was less information about Joe Panik. He will be reevaluated on Friday.
Copyright CSNBY - CSN BAY