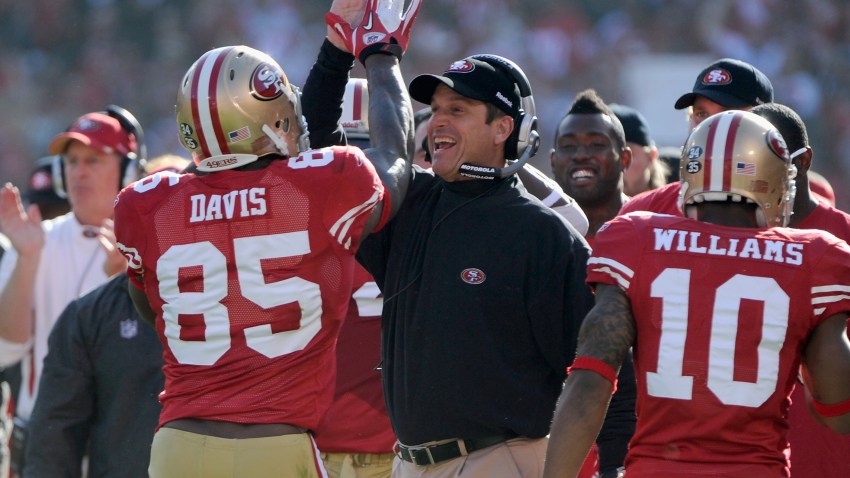 When Jim Harbaugh was playing quarterback for the Indianapolis Colts in the mid 1990s, he picked up the nickname "Captain Comeback" while leading an underrated cast to the NFL playoffs.
When he took his first head coaching position at little University of San Diego, he took the program to its greatest heights. After moving on to Stanford, he did the same thing.
Then, when hired to take over a San Francisco 49ers team that had been flopping around in the muck of NFL mediocrity for a decade, the former fiery quarterback instantly changed the team's chemistry by pouring his endless energy into the job and taking the 49ers to the NFC Championship Game in his rookie season.
"I can feel the enthusiasm coursing through my veins right now," Harbaugh said upon taking the 49ers job. "I accept this competitive challenge willingly."
Harbaugh, in other words, isn't your average football coach. He may have Xs and Os swimming in his head, but to his players it's almost as if he's one of them, ready to strap on a helmet and charge onto the field.
That's one of the things that makes Harbaugh special, says All-Pro inside linebacker Patrick Willis, who this week told ESPN Radio that playing for Harbaugh is like no other experience he's had.
If you're looking for the secret ingredient that sparked the team's turnaround in 2011, it's probably in Harbaugh. And it's what helps keep the players excited about their future in San Francisco.
"He is crazy, but he's a good crazy," Willis said, according to the NFL.com's Dan Hanzus, citing the radio interview.
"He's the kind of crazy that there is not a player on that team that would not go to war with him. And when I say 'go to war with him,' I mean, he's crazy – but most people would say, 'How could somebody be crazy, but it's good?'
"He's crazy in that if he had to lay himself on the line to make sure that you'd live, the guy beside him would keep fighting, he would do that. That's crazy, but he's that type of coach for us and he has that with us."