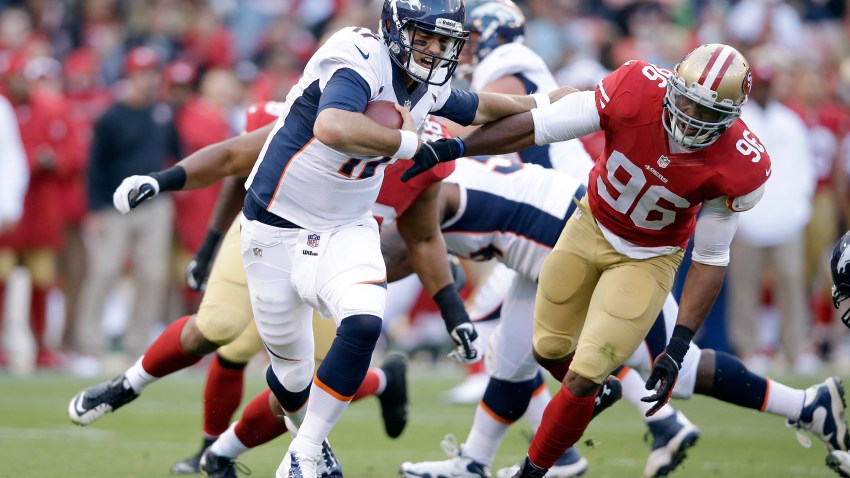 It's only August, with the start of the regular season still close to two weeks away, but it's already apparent that the 49ers 2013 draft was a bonanza.
No. 1 pick Eric Reid apparently will be a starter at safety. Second-round pick Vance McDonald looks like a keeper as a second tight end to replace Delanie Walker. Wide receiver Quinton Patton, a fourth-round pick, looked terrific in his exhibition debut Sunday night vs. the Vikings. And B.J. Daniels, a seventh-round pick from South Florida, may beat the odds to make the roster as a quarterback and jack-of-all-trades.
Plus, the trade Monday of veteran linebacker Parys Haralson opens the door for outside linebacker Corey Lemonier to get plenty of playing time.
Lemonier, a third-round choice from Auburn -- where he mostly played defensive end at 6-foot-3 and 255 pounds – has quickly and successfully made the transition to outside linebacker in the 49ers' 3-4 defense. His skills as a pass rusher have been on display during this exhibition season, and his performance prompted the 49ers to trade Haralson to the Saints.
At Auburn, Lemonier had 17 career sacks and was a two-time all-Southeastern Conference honoree.
As Eric Branch of the San Francisco Chronicle noted, Lemonier has "opened eyes in the preseason." Against the Vikings Sunday, Lemonier had four quarterback hurries on 16 pass rushes (as reported by Pro Football Focus). In three games and 35 pass rushes, he has eight hurries and a sack.
Just as Aldon Smith made the transition from defensive end at Missouri to outside linebacker and pass rusher extraordinaire, Lemonier is quickly adapting, too.
When the season opens Sept. 8 against the Green Bay Packers at Candlestick Park, Lemonier will get plenty of playing time as an outside linebacker and pass-rush specialist – the same role Haralson had, but a much less expensive and younger option than Haralson, who had rebounded from missing all of 2012 with an injury.
Niners defensive coordinator Vic Fangio, in fact, has said that Lemonier's development has been even faster than Smith's.
Lemonier certainly has come a long way from draft day in April, when on a conference call with reporters he referred to his new head coach as John Harbaugh – the older brother of 49ers head coach Jim Harbaugh, who had coached the Baltimore Ravens over the Niners in the February Super Bowl.
Jim Harbaugh apparently has held no grudge.
"For future reference, with reporters, you want to get the name right," Lemonier said his new head coach told him in April. "Just laughing it off."