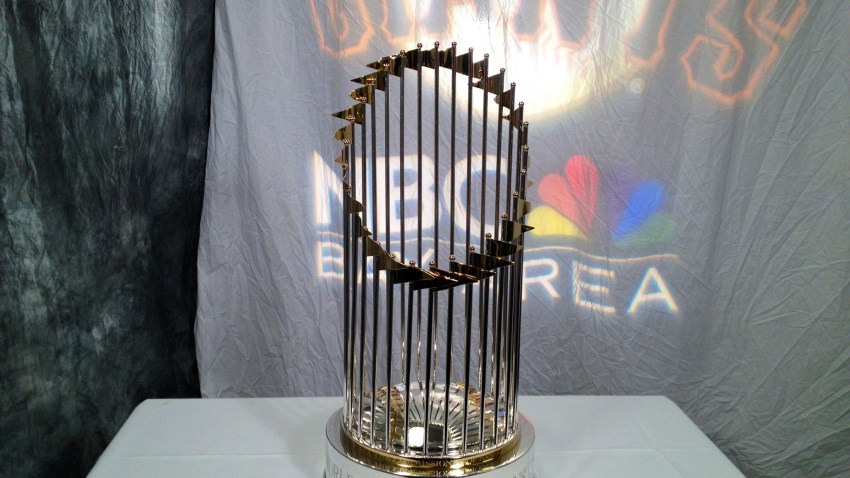 When your team wins the World Series, one of the cool things for the fans is the Trophy Tour.

When the San Francisco Giants won the World Series in 2010 fans waited for hours in order to take a photo with the trophy.

The 2012 Trophy Tour dates were just announced. The tour will begin in Sacramento in early January and ends in Tracy in March of next year. There is a stop in Tuscon during spring training and New York City where the team got its start.
"It was really important to us this time, given a second opportunity, to create a trophy tour which allowed us to connect with our fans as well as the more than 20,000 kids who participate in our Junior Giants baseball program," said Larry Baer, Giants president and chief operating officer.

This time the tour will include both the 2012 and 2010 trophies.
Fans will have the chance to both have their photo taken with the trophies and support their local Junior Giants Baseball League.
The trophy has already made some rounds to certain stake holders. The photo below shows the 2012 trophy making a visit to NBC Bay Area's holiday party. Season ticket holders were invited to AT&T last weekend for a photo.
The below dates are for the public tour.
Right now, the team is only announcing dates and cities, no exact locations or exact times.
Tuesday, Jan. 8 Sacramento
Wednesday, Jan. 9 Chico/Oroville
Thursday, Jan. 10 Los Molinos
Friday, Jan. 11 Redding
Saturday, Jan. 12 Mt. Shasta
Monday, Jan. 14 Richmond
Wednesday, Jan. 16 Vallejo
Saturday, Jan. 19 New York City
Friday, Jan. 25 Daly City & Redwood City
Monday, Jan. 28 Antioch
Monday, Feb. 4 Porterville
Tuesday, Feb. 5 Fresno
Wednesday, Feb. 6 Reedley & Sanger
Saturday, Feb. 9 San Francisco (Giants/KNBR 680 Fan Fest)
Tuesday, Feb. 12 Los Banos
Wednesday, Feb. 13 Lompoc
Thursday, Feb. 14 San Luis Obispo
Friday, Feb. 15 Paso Robles
Saturday, Feb. 16 Salinas, Gilroy & Morgan Hill
Tuesday, Feb. 19 Modesto
Wednesday, Feb. 20 Atwater
February 22-24 Scottsdale, Arizona (Scottsdale Stadium)
Wednesday, Feb. 27 Willits
Thursday, Feb. 28 Lake County
Saturday, Mar. 2 Livermore
Monday, Mar. 4 San Jose
Tuesday, Mar. 5 Live Oak/Santa Cruz
Wednesday, Mar. 6 Stockton
Thursday, Mar. 7 San Jose - Municipal Stadium
Wednesday, Mar. 13 East Palo Alto
March 17-19 San Francisco/World Baseball Classic (AT&T Park)
Wednesday, Mar. 20 Tracy

The tour is sponsored by Bank of America and Tiffanys.