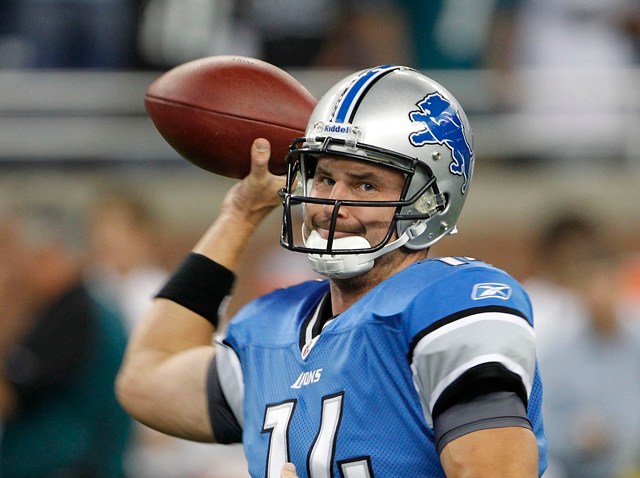 NFL Training camp season is always a time for irrational exuberance. Every team thinks it can win the Super Bowl, even though 31 of those teams will end being horribly wrong. And so, to preview the upcoming NFL season, which could be the most unpredictable ever, we now give you five reasons why your favorite team could win the Super Bowl. Today, it's the Detroit Lions.

1. NICK FAIRLEY AND NDAMUKONG SUH KILL KILL KILL!!!!! When you combine the most dominant defensive college lineman of a year ago with the most dominant college lineman of two years ago, I think you have every right to assume that the resulting tandem will eat quarterbacks whole, tear apart buildings with their powerful dinojaws, and forcibly take all the enemy's blood and treasure. Seems like reasonable expectations for Lions fans to have when they saw Fairley fall into their laps on draft day after the Auburn DT was hounded by rumors of lackadaisical play. Great DT combinations can do a world of good for a struggling franchise like this one. They free up linebackers to make tackles. They pressure the QB and force him to make mistakes. And their replica jerseys look much more appropriate on the average 400-pound fan. About the only thing that could stop these two is some sort of nagging foot injury. What's that? Nick Fairley is suffering from precisely that? Uh... yes well let's not dwell on it.

2. Colin Cowherd picked them to win nine games! Sure, the ESPN radio host and terrible person's division picks were deemed mathematically impossible, but still! He likes the Lions! He must think they have a strong father figure!

3. Matthew Stafford: NOT FAT! Thought your QB looked a little hefty going into training camp, Lions fans? That's wrong. Stafford apparently spent the offseason bulking up his upper body to prevent the shoulder injuries that have hampered him throughout his career. So if you see Stafford waddling around the field come September and think he overindulged, just know that you can never overindulge on SAFETY.

4. A Fully Armed And Operational Megatron. Again he'll be good for 1,000 yards and a dozen touchdowns. And perhaps the refs won't steal anymore touchdowns from him this go round.

5. God has to smile on the Motor City sometime. Right? RIGHT?! To assume the Law of Averages will finally cause the Lions to stop being terrible is to ignore the rich history of this team's failings over the past six decades. The Lions aren't going to be magically good just because they're due for it, and the good news is that it seems like the organization has fully grasped that in recent years. There are building blocks here in Suh, and Megatron, and Stafford, and Jahvid Best and many others. This is clearly a talented team, one that you SHOULD have high expectations for. That's the nice thing about this Lions team. You aren't hoping to luck into a ten-win season. This is a roster capable of actually pulling it off.