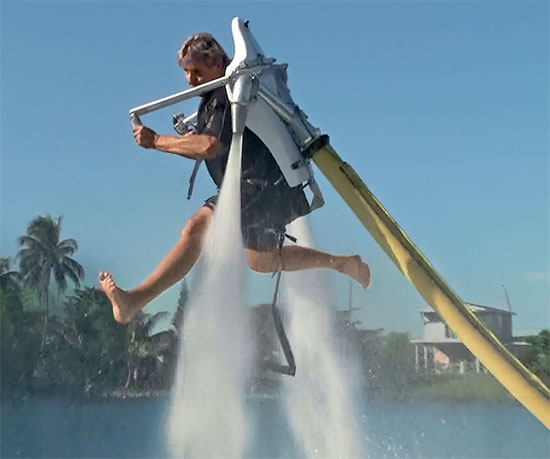 Most folks think that gadgets are designed for couch potatoes. However, true adventure-seekers know that technology can be used to make their exploits safer, and more fun too. Have a budding Everest climber on your gift list? How about an athlete looking for a competitive edge?
Make sure they're outfitted appropriately, then. The proper outdoorsy gadget may be more than just useful — it could be a lifesaver.
Click on any image to see it enlarged.
---
What do you get when you combine a weather-proof, rugged GPS with a revolutionary satellite communicator? The DeLorme Earthmate PN-60w GPS with SPOT Satellite Communicator. It can guide you to the most remote locations, and then send out a rescue 911 call if you get into trouble.
With the ability to send one-way text messages and summon Search and Rescue teams via satellite, SPOT has saved hundreds of people who were in emergency situations far from cell coverage. Imagine how Aron Ralston's life might have changed had he had a SPOT with him. (Admittedly, in a slot canyon, the results might have been the same.)
Price: $550 (plus subscription fees)
---
This upper and lower body armor is for hard-core motorcyclists and other extreme sports enthusiasts who expect to take impact blows. Most hard-shell armor is designed for one impact only. The beauty of these products is that they're designed to take multiple impacts and still offer protection.
Forcefield also has a line of climate-controlled clothing that can keep you warm out on the motorcycle, or keep you cool even while wearing layers of protection. Safe and cool? Put this on your favorite moto's gift list.
Price: Varies on size and style
---
Everyone from ballerinas to snowboarders can benefit from a few well-placed pieces of bodily protection. The 3d0 products are thin, soft and flexible until an impact locks the molecules together to spread the energy of the shock. Their latest product, the Armadillo hoodie, was designed for scooter riders, and their products kept our Olympic skiers looking svelte in their Spyder skinsuits. Totally rad.
Price: Varies by model
---
Equestrian accidents can be deadly. Using a tether similar to a "dead man's switch" on a treadmill or jetski, if a rider is thrown off a horse, this airbag vest automatically inflates using a CO2 cartridge and airbags to protect the neck and back. On a solemn note: Rest in peace, Superman — this is the kind of technology that could have made a difference.
Price: Models start at $380
---
Garmin keeps outdoing itself with the Edge series of bicycle computers. The coolest feature for the new 800 is a touchscreen that works even while wearing winter cycling gloves. The 800 can be preloaded with your route so you get turn-by-turn navigation; it also features heart-rate and cadence records, and a newly designed mount.
The Edge 800 is extremely rugged — waterproof and ready to take on some flowy singletrack. The 800 also has a barometric altimeter to record temperature changes and your climbs. With a lifespan of about 15 hours, it will track even your most epic rides.
Price: $450
---
Considering that many smartphones can now double as a navigation receiver, it's no wonder that Magellan felt compelled to pack a ton of extra features into the eXplorist 610. This handheld touchscreen GPS uses more than 30 navigational data fields to help you find your way.
Now, we don't really consider geocaching an extreme sport, but you can download geocache data directly to the unit, and the built-in camera lets you document your find. 3D mapping makes it easy to follow a route. It runs on two AA batteries for 16 hours, but you can also turn off all features except the GPS tracking to save power. This unit just dares you to try to get lost.
Price: $550
---
This amazing backpack deploys an airbag to reduce or eliminate burial depth in the event of an avalanche. How, you ask? The airbag actually helps the avalanche victim to "float" to the top of the snowpack, and making it easier for them to "swim" to the top before the snow solidifies.
This works in two ways. First, the bag increases the size of the wearer, and in an avalanche, bigger objects tend to move to the surface of the slide. Secondly, the airbag reduces the density of the victim, making him or her lighter than the snow, so they really do tend to float. The airbags also protect the victim from the trauma of being swept away. Don't hit the backcountry without one — avalanche beacon would be a handy addition.
Price: $760
---
What's the point of pulling off sick tricks if you can't show off your prowess on YouTube and Facebook? The GoPro Helmet Hero can shoot up to 1080p HD video at 30 fps, or 720p at 60 fps, ideal for high-speed hi-jinks. With 2.5 hours of record time per charge, you can capture your most epic adventures. It is waterproof and designed to withstand impacts from rocks. Lights, camera, action, ouch.
Price: $300
---
Are your friends tired of watching your boring base-jumping videos? Maybe it's time to up the ante with 3D videos. The Tachyon XC HD 3D uses a pair of Tachyon's rugged, waterproof (to 100 feet) and tiny XC HD helmet cameras to capture left- and right-eye video, then, using supplied software, you convert the streams into 3D video. It even comes with three pairs of glasses so you can watch your homemade 3D action flick.
Price: $390
---
Sure, kiteboards are all the rage right now, but take the work out of flying over the water with your very own personal flying machine powered by water-nozzle reaction force. Instead of strapping on heavy engines, the guts of the system are in a little boat/pod that's tethered behind. This also keeps all the noise away from the pilot. Soar to heights of about 30 feet and up to 25 mph on a spray of water. Just try not to collide with James Bond while you're up there.
Price: $170,000
---
Any sport that requires goggles is cool, but when you add the Zeal Optics Transcend GPS goggles, well, they become exponentially more radical. The Transcend goggles have an integrated heads-up display to show data including speed, vertical odometer, altitude, temperature and location. Yup, there's a GPS chip included, too. When you get back to the comforts of home, you can download the data to see exactly where you've been.
Price: $400 (polarized), $500 (photochromic)
---
Here's a cool gift that won't break the bank. The Eton Scorpion is a multipurpose crank-and-solar-powered digital weather radio. It's also packing a spot to plug in your iPod, USB phone-charging port and a built-in flashlight. The best part, though? The included bottle opener. Cheers!
Price: $50
---
The Fisica is a sensor key (a fancy word for a dongle). It wirelessly connects your iPhone to your fitness measuring device such as a heart-rate monitor strap or cycling power meter. Then, using fitness apps, the iPhone displays and processes all your performance data.
The Fisica works with any ANT+ industry-standard device and bundles are available for runners and cyclists. Even better, after the workout, you can use the smartphone to share your physical awesomeness with everyone on Facebook and other social-media sites. (During the 2010 Tour de France, riders for HTC-Columbia used smartphones tucked under their saddles to send their ride data live across the Internet).
Price: $80
Copyright DVICE - DVICE