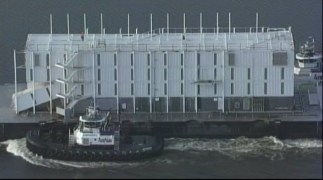 Fire sunk Google's plans for the high seas.
The mysterious and notorious Google barges that appeared on both coasts last year were scrapped after concerns over fire safety led the company to abandon ship, according to reports.
The Wall Street Journal reports that federal maritime officials told Foss Maritime Co., which had been developing the barges into floating "technology showrooms," that the barges' cargo — 5,000 gallons of fuel, and more "combustible material" on board — might cause unsightly scenes in the event of a fire.
The Coast Guard in 2013 worried about "people ... forced to jump overboard on the waterside," according to the newspaper.
Google declined to comment.
Two out of three original Google barges were sold for scrap. The third floats still in Stockton, where it "awaits its fate," the San Francisco Business Times reported.