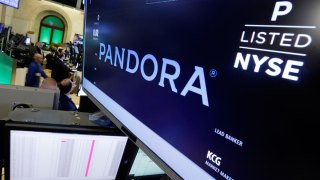 Pandora isn't commenting on rumors that it's looking for a buyer, but instead has revealed a five-year plan to generate $4 billion.
A New York Times report that the music discovery service, which is headquartered in Oakland, has had talks with Morgan Stanley about finding buyers for the company was not directly refuted by CEO Brian McAndrews and CFO Michael Herring during a Q4 earnings call.
Instead, according to Variety, investors were given details of a five-year plan to earn $4 billion, including building a subscription service from assets acquired from San Francisco company Rdio and expanding Ticketfly, the live event and ticketing company, also based in SF, that was purchased in October for $405 million.
Which, of course, doesn't mean it's not for sale, but at least one industry analyst isn't holding his breath.
With Rdio's assets, purchased for $75 million and thought to include global music licenses held in 85 countries, Pandora could be an attractive purchase for a company that wants to jump into the music streaming arena as opposed to one that's already in the space. Bobby Owsinski of Forbes suggested that Pandora would not be an obvious purchase for companies like Google and Apple for that reason.
Instead, Owswinski ventured it could be a match for Seattle's Amazon — which, unlike the Bay Area giants, has yet to unveil a music streaming service.