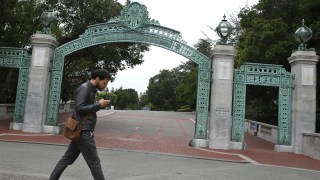 UC Berkeley researchers are working on a big disappearing act.
According to The Daily Californian, a small "invisibility cloak" developed over the past six years has new potential for a myriad of future applications in the world.
Team leader Xiang Zhang, who is a professor of mechanical engineering at UC Berkeley and the director of materials sciences at the Lawrence Berkeley National Laboratory, told the publication that they've made big improvements in designing a thin, cloth-like material that makes 3D objects appear invisible through light wave refraction and offered examples of its possible future uses, including to improve blind spots in car designs or to hide weaponry in military situations.
But such wide-ranging contemplations could be a ways off.
Researchers are working on expanding the technology to have bigger surface areas. For now, it is one-thousandth the size of a human hair and only capable of concealing a microscopic object.
In case you didn't see this: Invisibility cloak shields bumpy 3D object in visible light http://t.co/5mYMubrPXZpic.twitter.com/q0NJs2OpAN

— UC Berkeley News (@UCBerkeleyNews) September 21, 2015