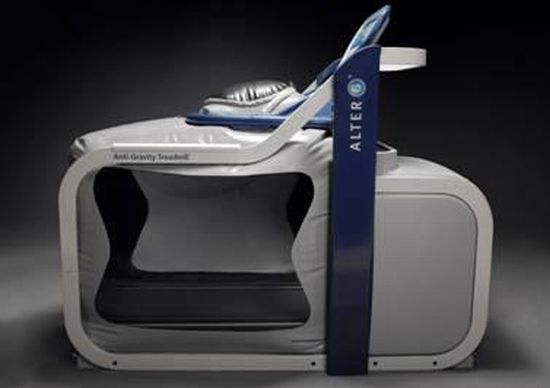 Want to get some exercise done in microgravity? Unless you travel to the International Space Station, exercise in a pool, or mount up on the pricy AlterG Anti-Gravity Treadmill, that was an impossibility until now.

Expanding beyond the market of the super-rich and cash-awash pro sports teams, now AlterG will sell an anti-gravity treadmill for the merely rich, offering the $24,500 AlterG M300 for sale next month.

What the heck does it do? It creates air pressure strong enough to hold up a 400-pound behemoth. Using differential air pressure around your lower body to lift you up, it lets you move around in 20 percent-G or any variation between that and normal gravity.

This is great for athletes recovering from leg injuries, old folks who can barely walk and need the exercise, and those of us who want to brag about running 500 miles this morning. Best of all, you can get a tremendous exercise benefit and weight loss without the stress on joints, bones, ligaments, and feet.

The exorbitantly expensive version is already used by half of the NBA teams, many NFL teams and 22 well-heeled collegiate athletic programs. You might not be able to buy one of these lower-cost M300-series models yourself, but look for the magnificent machines soon at a fancy rehab clinic or gym near you.
Copyright DVICE - DVICE