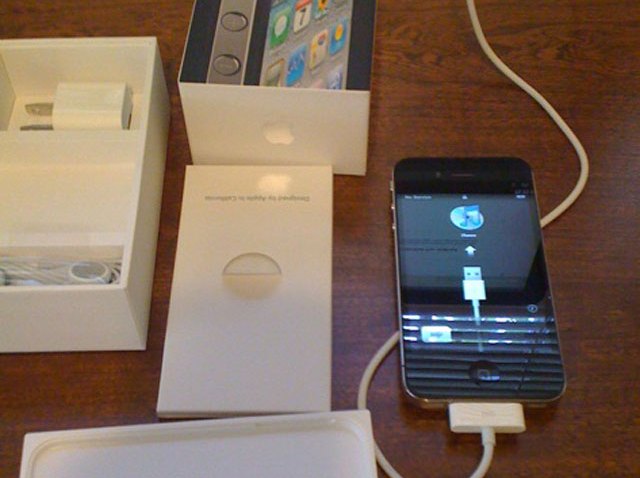 The new iPhone 4 won't officially roll out until tomorrow, but Christmas came early for San Diego attorney Gil Cabrera who received his new pre-ordered iPhone yesterday via FedEx.

He set Twitter a flutter when he announced its arrival via the social networking site - complete with TwitPics.

People immediately started tweeting him and hundreds started following him hoping to get an early glimpse at the new features.
Those features include a front-facing video chat camera, a much improved regular camera, flash, a noise cancellation secondary mic (p.s. This journalist truly thanks you for that Apple) and a higher resolution display screen.
E-mails began flooding Cabrera's inbox-- mostly from customers longing to get their hands on the new device. The local attorney was also contacted by developers and businessmen who have built accessories and apps for the phone.

Someone even offered him a $1,000 just to get the phone that will be released Thursday.
"I mean, yeah, it's cool, but it is just a phone," Cabrera said of the attention; though he does admit he was pretty excited when he first heard the news too.
"So, I got a call from my receptionist that it looked like my iPhone had arrived, and I told her that can't be true because it's not coming out until today (Wednesday) or tomorrow," he said. His receptionist opened the box confirming the phone's arrival.
"Then I ran down and got it," Cabrera said.
Some suspenseful moments followed when it took a few calls and some troubleshooting to get the phone activated.
"Oh cruelty! Apparently, the #iphone4 arrived in error early and I cannot activate it until tomorrow! That's just wrong!" Cabrera tweeted.
After rebooting his computer, the phone finally worked.
Cabrera has since answered dozens of e-mails, been quoted in Business Insider, met up with a developer for some early app testing, and pretty much been the envy of every iPhone-obsessed oversharer in town.
On Tuesday, AT&T announced that only preordered iPhone 4s will be in stock in its retail stores on Thursday, which is the official iPhone launch date. Everyone else will have to wait until June 29 to buy it off the shelves on a first-come, first-serve basis.

Cabrera's favorite feature is watching movies like Avatar in HD. He has not yet been able to play with the video conferencing feature mainly because he's the only person he knows with the phone. How he received it early is a mystery.

"I called Apple and the rep was like, 'You have the iPhone 4? Yea, that's a mistake,'" Cabrera said.

But was it?

The new iPhone has "accidentally" been shipped to very select people across the country. And Wednesday, Apple customers received e-mails notifying that some people will get their iPhone4 Wednesday. Engadget is reporting more than three dozen such tips from customers who received the e-mail.
Cabrera said he was specifically contacted by FedEx to confirm the package had arrived-- something that's never happened before.

AT&T's preordering system crashed on June 15 when iPhone 4 was made available for preorder. AT&T said its systems were overwhelmed by the number of people attempting to order the device. They then had to suspend sales. Apple says together with its partners it sold 600,000 iPhones before AT&T suspended sales.
However the phone got to him, it has arrived and Cabrera now has the perfect tool to tell the world all about it.