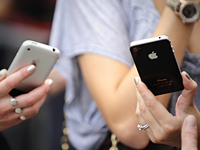 Can it be? Will it really happen? Will the iPhone really make the jump to Verizon at the beginning of next year? We don't want to get anyone's hopes up, but news site Bloomberg sounds pretty damn sure, citing two sources in the know.
The two sources aren't named, of course, and both Verizon and Apple aren't commenting on the news, but Bloomberg is reporting that the iPhone will make the move to the largest cellphone company in the U.S. come January.
The move only makes sense, considering AT&T's stranglehold on the iPhone since 2007 hasn't completely withered Verizon's massive network of over 90 million callers. Apple could see a boost of as many as 3 million new buyers quarterly, UBS AG analyst John Hodulik predicts, if the phone found itself on Verizon.
The fact is, Apple is going to dramatically increase the number of devices it sells in the U.S. when exclusivity at AT&T ends," said Hodulik. "It's hard to ignore the quality issues that AT&T has faced."
The timing of the iPhone's arrival on Verizon could also hint at an iPhone ready for 4G (read: not fourth generation, but 4G network). Verizon is in the process of rolling out a high-speed, next-generation network, and the plan is to launch a bunch of handsets that take advantage of the technology in January next year.
Copyright DVICE - DVICE