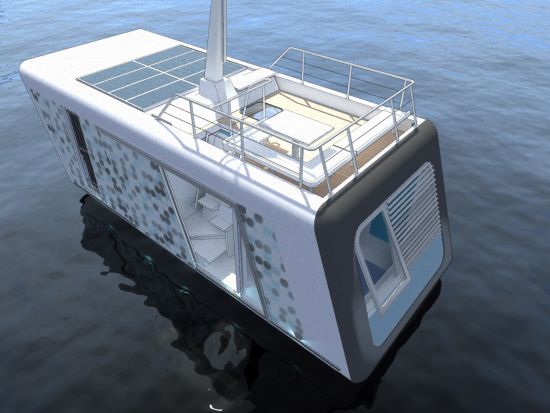 Houseboats have long been a way to ease crowded housing in tightly packed cities, but most houseboats look pretty much the same as they were 100 years ago.
A British company called WaterSpace wants to give houseboats a 21st century makeover, by designing this eco-friendly floating studio apartment.
WaterSpace's Floating Studio Flat will be a one bedroom floating apartment, with a wet room, kitchen, and bedroom, along with a rooftop sun deck. While WaterSpace has designed the basic form, customers will be encouraged to have a hand in the final design of their Floating Studio Flat. Options will include solar panels and a wind generator, which WaterSpace claims can make the houseboat nearly self sufficient power wise.
I just hope the so called "wet room" is an intentional part of the design, and not indicative of some leakage.
Currently in the design phase, the Floating Studio Flat is expected to sell for about 80,000 UK Pounds (about $128,000).
WaterSpace, via Born Rich
Copyright DVICE - DVICE