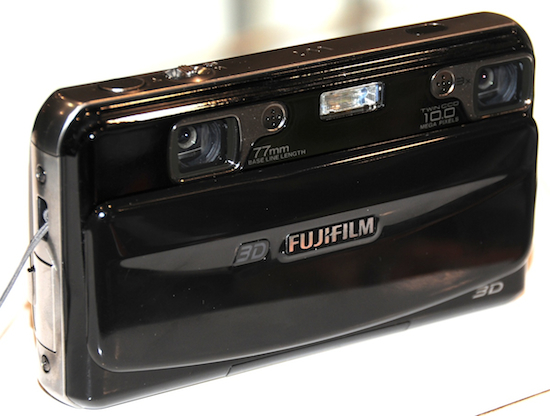 Fuji grabs the honor as the first-ever 3D digital camera. You can now buy the Fuji W1, a stereoscopic 3D 10 MP model with a 3x optical zoom and a 2.7-inch LCD 3D viewfinder, for $600 through Fuji's online store. You can also shoot regular old 2D photos as well.
The W1 also captures 3D videos, stored in a new format called .mpo, based on the multi picture format (MPF) standard. As with any digital camera, images and video are stored on an SD card, but you'll need around twice as much space as you would for 2D photos to store 3D stills and videos, which are limited to around 2 GB (around 20 minutes) for a single clip.
Since there aren't any 3D HDTVs for sale yet, you can view your stills and video on any Nvidia-equipped 120 Hz PC monitor with a DVI connection, and/or you can buy Fuji's 7-inch digital picture/video viewer frame ($500). You don't need glasses to view stills or video on the frame. It uses a technology called "parallax barrier" to create the 3D effect, but it has a tiny sweet spot. Viewing in anything other the perfect position, you see double images. Fuji is chatting up 3D HDTV makers to try and get them to include SD card slots that can read the still and .mpo video files.
You also can get hard copies, which sort of look like larger versions of the holographic cards you used to get inside of Cracker Jack boxes, but uploading your 3D image files to www.seehere.com - or so we were told. There's nothing on the site indicating 3D printing capability.
Copyright DVICE - DVICE