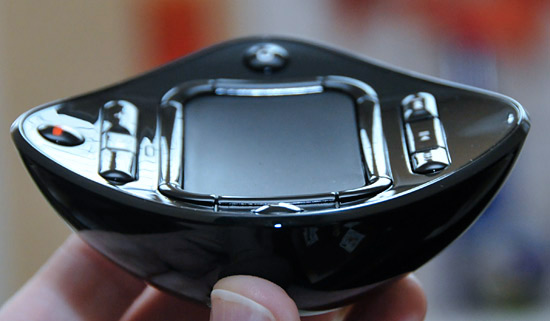 Here's an entirely new way to control your Mac or PC in the home theater. The GlideTV Navigator is a radio-frequency remote featuring a touchpad that's a lot like the one you use on your laptop every day. We tested it for a few days in our home theater, and were pleasantly surprised with its clever functionality.
Its touchpad is pleasantly responsive, with a scrolling area on the right side and horizontal scrolling across the bottom. It also acts as a button, giving you an audible click as you push it down. If its movement it too quick for your taste, you can adjust sensitivity using the regular mouse control panel. Surrounding the touchpad are eight buttons, letting you control such functions as directional arrows, backspace and escape. Around the touchpad are transport controls for movies and video, volume and mute, and dedicated buttons to initiate a search, bring up the on-screen keyboard or put your computer in sleep mode. Everything you need is all there.
Well, almost. For mouse functions, GlideTV Navigator is ideal, but it falls short when it's time to type anything. Its on-screen keyboard is a whole lot easier to use than the pathetic "keyboard" on, say, TiVo, but it's still not anywhere near as easy as using a regular keyboard.
You mouse around and click on each letter, and GlideTV tries to help with predictive text, which is often useful. It's an admirable attempt at an on-screen keyboard, but making that as easy to use as regular keyboard is nearly impossible. We'd suggest using the excellent Logitech diNovo Mini Bluetooth keyboard, an excellent choice for home theater, as a companion to GlideTV.
The GlideTV Navigator is expensive, but you get extraordinary quality for your $150. The hockey puck-sized unit has a gleaming piano black finish, and you can place it in its matching charging stand without worrying which direction it's facing. After getting used to it, we think it's the best home theater PC controller yet, despite its on-screen keyboard shortcomings. If you have an extra $150 lying around, we highly recommend it.
Copyright DVICE - DVICE