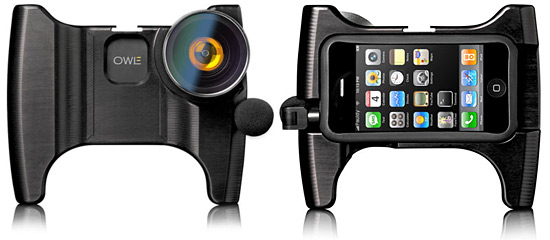 We showed you its rough prototype last summer, and now the OWLE (Optical Widgets for Life Enhancement) iPhone Video/Rig is polished up and ready for sale on Think Geek.
Just as we had hoped, OWLE placed tripod mounts on four corners of the handles. Beyond that, we're delighted to see a mini boom mic mounted on the side, giving you a fighting chance at acceptable sound quality.
Too bad OWLE can't improve the iPhone's video, but then, underground filmmakers turned the Fisher-Price PXL-200 camcorder's black-and-white video into an artistic medium of its own, so maybe the same thing can happen to iPhone 3GS video. One enhancement that will get you closer to that goal is the included .45x wide-angle/macro combination lens. There's also a 37mm lens fitting that accommodates a variety of lenses.
A couple of things we wished for didn't happen, including a less bulky enclosure, although this one's made out of a solid block of milled aluminum which is probably plenty light.
And that $130 price is a far cry from the $40 we anticipated. Even so, maybe next year's iPhone will feature better video quality, image stabilization, and maybe even a way to sync a flash with its shutter. Or maybe you could just get yourself a good digital SLR.
Think Geek, via Oh Gizmo
Copyright DVICE - DVICE