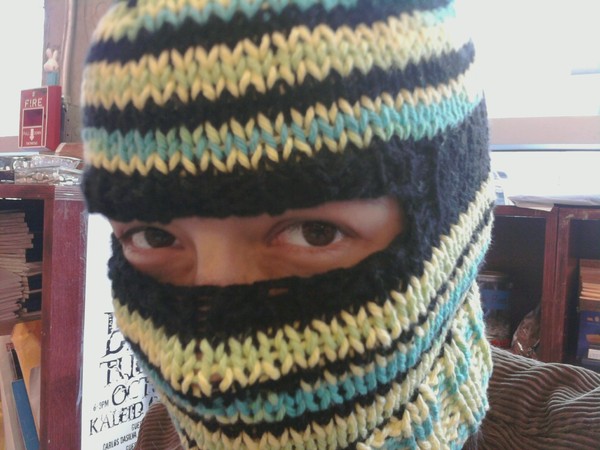 By sundown, it will look like a yard-filled bomb went off along San Jose's South First Street. When you see it, you'll wonder who's responsible, graffiti vandals or your granny. For months, knitters have been knitting and purling, garter and stocking stitching, whipping up enough cozies to wrap around the trees of the South of Market District.
"Yarnbombing is kind of like the cuddlier side of graffiti," said the San Jose artist organizing the knitters for the SubZero Festival on this first Friday in June. Captain Knitty Bitty - who goes by Lacey Bryant when she's not yarnbombing - added, "It's about brightening up your city landscape and making it more exciting, more beautiful, giving you something bright and fun to look at."
The San Jose Yarnbombers struck downtown for the first time last year and, though the tree's colorful cozies could technically be considered vandalism, the knit graffiti was well received. "It's street art that' not meant to be destructive in any way so it's actually entirely removable." Bryant said that even the city's arborists, whose job it is to keep the trees healthy were willing to work around the yarny works of art.
Last Friday in Berkeley, the yarnbombers that go by the name "Knitta Please" took credit for the giant cozy that covered the letter "T" on the public art on Adeline Street. There, city leaders demanded the group remove it.
In San Jose, yarnbombers focused on the trees making them look like they got dressed up in sweaters for the SubZero Festival, which is a celebration of the local art scene in all it's forms.
But, this year will look a little different because as an artist, Bryant had to take things to another level.
"I knit all these bright colorful balloons so it's actually a sphere and I blow up a balloon on the inside and coat it in Elmer's glue to stiffen it up. Then I pop the balloon out and I end up with a ball and it's kind of transparent because the knitting gets stretched and you can see through it," said Bryant, describing the beautiful, colorful globes this reporter can't wait to see up in the trees.
Bryant posted want ads in knit shops around the South Bay and set up a Facebook page to recruit new members. What she found is that yarnbombing was rewarding as art experiment and as a social experiment as well.
"It's kind of fun being part of something mysterious and kind of sneaky but at the same time it's cool because we get a lot of different people. I have knitters that are soccer mom types who you wouldn't expect to be doing anything wild and crazy abut they're the wildest and most crazy. They're awesome."
A high compliment from Captain Knitty Bitty.
You can find out more about the SubZero festival by clicking here. It runs from 6 p.m. to midnight.
You can join the San Jose Yarnbombers through their Facebook page. Yes, they twitter as well.
Kris Sanchez is ready to turn all her half-finished knitting projects into hip and edgy street art for all of San Jose to enjoy.