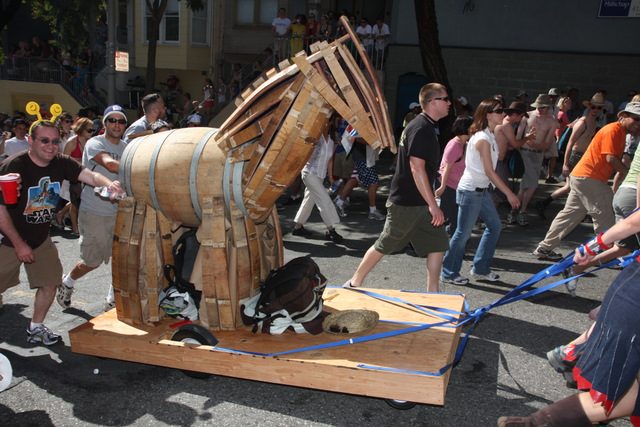 As Bay to Breakers creeps up on its 100th birthday, the race is facing major changes. At the top of the list is a bit less fun.

Last week's NoPa neighborhood association tacked the issue head-on, with charts and graphs showing a huge spike in ambulance calls around the Panhandle during last year's race. The group has been working alongside the Mayor's office, the SFPD, and race officials to establish new rules for next year's event.
Most of these rules have been on the books in past years, but this time leaders say they mean it.

Rules for B2B100 are going to be tough:
No floats
No booze
Registrants will be capped at 50,000 people
Only official registrants will be allowed on the route.
The police plan to bring "mobile jails" to the route to facilitate arrests.
You'll notice nakedness is not on the list.
Neighbors are sure to love the extra dose of law and order, but some race aficionados are annoyed. Citizens for the Preservation of Bay2Breakers says that the new rules take away what makes the race so special.

Opposition to the new rules may precipitate a larger showdown over just who has Bay to Breakers' best interests are heart. Both the partiers and the law-and-order crowd have claimed that they want to "preserve" the race. Now, which one is right?
Copyright FREEL - NBC Local Media