Chris Chmura joined NBC Bay Area in April 2016 as Consumer Investigative Reporter. He responds to consumer complaints and advocates on their behalf.
Chris joined NBC Bay Area from WTVT in Tampa, where he spent nearly 10 years as a consumer reporter. His stories offered viewers advice for saving money, avoiding scams and traveling smart and were distributed to stations nationwide.
Prior to that Chris worked at WFLA in Tampa, and in Washington D.C. at The Associated Press and Conus TV News Service in both Tallahassee and Washington, D.C. He began his career at WCJB-TV in Gainesville, Florida as a fill-in weekend weather forecaster.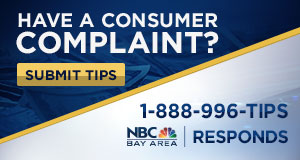 Over the years Chris has covered raging wildfires, chased countless hurricanes, and interviewed hundreds of people. He also reported expansively on the September 11 attacks as he lived near the Pentagon in Washington D.C.
Chris has been honored with several regional Emmy Awards for his consumer reporting. He has also been honored by the Associated Press, The Society of Professional Journalists and the William Randolph Hearst Foundation.
He was born in Long Island, New York but a short time later his family relocated to Florida. He grew up near Tampa Bay – the 'other' Bay Area. He graduated from the University of Florida College of Journalism and Communications with a Bachelor of Science in telecommunications.
When he's not working, Chris is planning his next getaway — his life's ambition is to see as much of our planet as possible so he carries his passport at all times, just in case!