A massive earthquake hit the South American country of Chile early Saturday, toppling homes and bridges, and causing trucks to fall into the fractured earth.
The 8.8 quake set off a Tsunami that put every city that sits on the Pacific Ocean on alert for most of Saturday. That included all of the Bay Area coastline. The advisory came and went without any reports of damage.
All coastal counties advised people to stay away from the water from 1 p.m. to 4 p.m. after the National Weather Service issued an official Tsunami Advisory.
Experts say that a tsunami is not one single wave, but a series of waves that could last a couple hours. Think of a pebble dropped in the water and the series of circles that it makes. That is the same basic concept as a tsunami.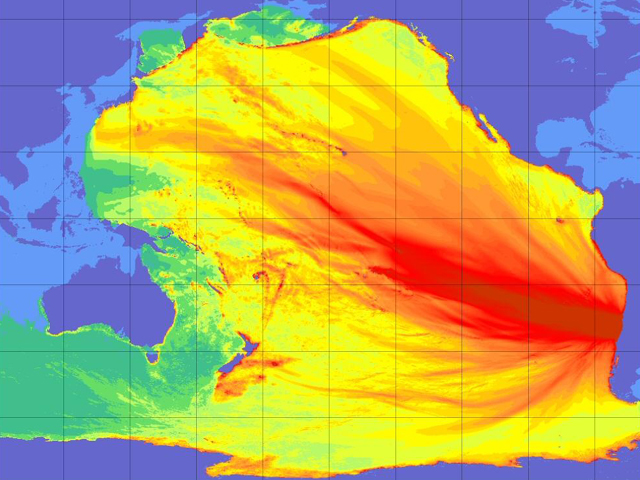 The surge was supposed to be at most between two and three feet by the time it got to Northern California.
Experts say a tsunami is not an actual wave, but a surge of water. For the Bay Area, the tsunami arrived about three hours after high tide and that will helped lessen its impact here.
In Marin County, emergency officials activated their emergency reverse call line to people living on the coast. They also closed both Stinson and Muir Beaches for Saturday afternoon.
Even though the actual wave was small, a tsunami could have produced strong currents and a series of potentially dangerous waves.
The advisory included the Bay Area counties of San Francisco, Santa Cruz, San Mateo, Marin, Monterey, Contra Costa, Napa, Sonoma, Santa Clara and Alameda.
"So far, things have been fine," National Park Service spokeswoman Chris Powell said. "We really haven't seen any high waves."

Officials previously reported Muir Beach and Stinson Beach were closed, but they have remained open, according to Powell.
In San Mateo County, the Pillar Point harbormaster is watching for any changes in the waves and the sheriff's office, Cal Fire and police agencies up and down the coast are working together to monitor the situation, sheriff's Lt. Ray Lunny said.

He said 1.6-foot waves are possible in Pacifica and up to 3-foot waves could hit Half Moon Bay.
The arrival of tsunami surges also came and went without any reports of damage in Southern California.
"It wasn't dangerous, but the water went out lower than an especially low tide and came back in," said San Diego lifeguard Lt. John Everhart. "That was definitely a tsunami event."
Everhart said the tidal surge was seen around the La Jolla reef and the Birdrock area.
The situation is more serious in the islands of Hawaii where sirens blared a warning to tourists and residents of a potential tsunami. In the end no damage was reported in Hawaii either. The main airport did shut down for several hours and most tourists said they spent their day worrying instead of vacationing.
Waikiki's world-famous beaches were empty and tourists gathered in small groups on sidewalks. Check out the live video of Hawaii's coastline below.
For the most part, Waikiki remained quiet except for those in cars driving to safer ground.
Cars packed grocery store parking lots and gas stations to stock up on supplies before the waves hit. One person said that his Wal-mart was packed at 2 a.m. as people tried to buy water.