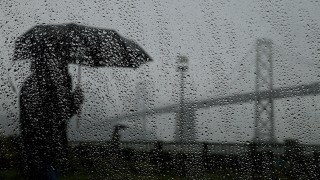 The 2017-18 rainy season appears to be off to a pleasant start across the Bay Area following last week's widespread downpours.
For the time period between Oct. 1 and the middle of November, rainfall amounts across the region were near or above annual averages specifically for the beginning stretch of the stormy season.
Santa Rosa, which has recorded 4.9 inches of rainfall since the first of October, stands at 109 percent of average so far this season. Oakland's 2.75 inches of collected rain is also 109 percent of average.
Mountain View has registered 1.66 inches of rain, which checks in at 111 percent of average.
San Francisco (2.63 inches; 97 percent of average), San Jose (1.32 inches; 81 percent of average) and Livermore (1.63 inches; 79 percent of average) came up short of surpassing the 100 percent of the average mark to date.
Good rainfall season recovery this past week, some areas back above 100%! #CAwxpic.twitter.com/TXHywGf8ls

— Rob Mayeda (@RobMayeda) November 19, 2017
Sierra snowpack now and then: Today vs. Nov 11th. #CAwx#Sierra via Suomi NPP/VIIRS and NOHRSC data ⛰️🏔️ pic.twitter.com/OLQJC5QavK

— Rob Mayeda (@RobMayeda) November 19, 2017
Overall, while we're behind last year's big rainfall numbers things are better for the Sierras snowpack year to year. #CAwx#Sierrapic.twitter.com/zZwKjMVZnP

— Rob Mayeda (@RobMayeda) November 19, 2017