OAKLAND – The Raiders don't look like a team worthy of playoff consideration. Yet, here they are, right in the thick of things after Sunday's 24-17 victory over the New York Giants and a little help from an old rival.
Kansas City lost its sixth game in seven tries on Sunday against the New York Jets, turning the AFC West into a late-season free-for-all.
The Raiders, Chiefs and Chargers have six losses through 12 games, and winter football will determine the champion of strange, strange division.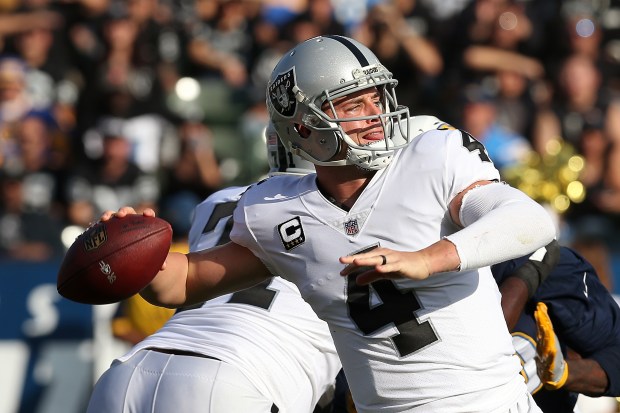 Oakland Raiders 2017-2018 Season Highlights
The Raiders play the Chiefs next week and close the season against the Chargers, giving them an opportunity to control their fate in the division. They bookend difficult games against Dallas and Philadelphia, meaning there's significant work ahead before postseason prospects become realistic.
They'll have to play a whole lot better than they did Sunday. The Raiders were bad. The Giants were worse. Both teams tried to give it away, but mistakes on both side kept it interesting late.
The Raiders (6-6) went up two scores late, and hung on to secure their first winning streak since starting the season 2-0 and their first time at .500 or better since Week 4.
That's the good news for Raiders fans. The bad news: This remains a flawed football team, with holes, inconsistency and talent deficiencies at key spots.
They certainly missed top skill players Amari Cooper (concussion, ankle) and Michael Crabtree (suspension). Remaining receivers were largely ineffective save a big Cordarrelle Patterson catch and run and, if not for Marshawn Lynch, the offense might've been permanently stuck in neutral.
Lynch was effective for a second straight game, with 101 yards and a touchdown on 17 carries. He also had two catches for 20 yards.
The defense, however, was a saving grace.
That unit had key takeaways to keep the Giants' score low. Khalil Mack and Bruce Irvin harassed Giants quarterback Geno Smith most of the day, and were integral in this victory.
Marshawn Lynch kicked started this game with every game of an opening touchdown drive. He ran for two yards, then seven and then went 51 for a touchdown. Left guard Kelechi Osemele opened a huge hole and Lynch blew threw into open space, where he rumbled for the game's opening score.
It was his longest as a Raider, and an important play in a lackluster first half for offense and special teams.
This outcome might've been different without two huge defense plays.
The Giants were in field goal range and pushing for more when Bruce Irvin stripped and sacked Smith. NoVorro Bowman recovered to kill that drive and the offense turned that into a field goal.
The Giants gained possession inside the Raiders' 10-yard line after Marquette King had to eat a punt attempt with a man in his face, but Khalil Mack stole the ball right back in his best play of the year. He had an easy sack lined up, and went straight for the ball. He ripped it away from Smith, and kept the Giants from scoring late in the first half.
The Raiders weren't getting those types of defensive plays earlier in the year. An improved pass rush has led to more takeaways and easier scoring opportunities. That must continue, and the offense must find elusive rhythm if the Raiders hope to go on a late-season run and seriously challenge for the division title.