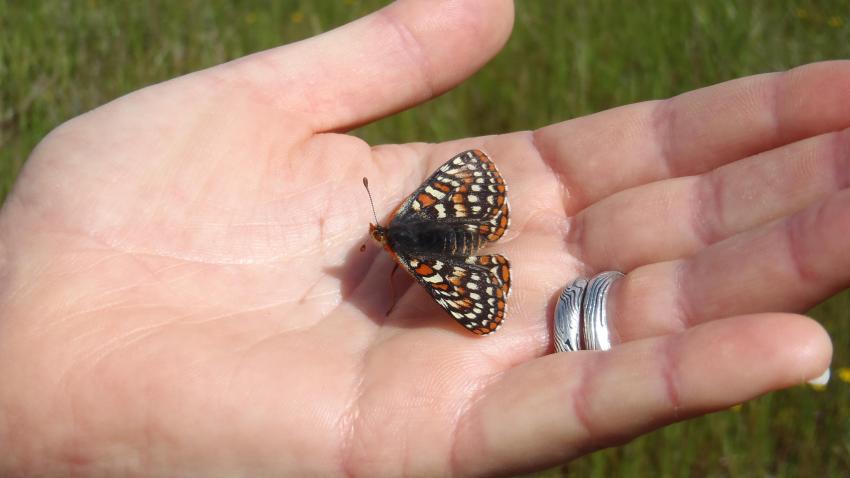 As part of a continuing effort to repopulate the checkerspot butterfly in San Mateo County, a group of biologists and volunteers hand-carried a few dozen of the endangered species into Edgewood County Park and Natural Preserve Tuesday afternoon.

About 46 of the red-and-white checkered butterflies were collected from Coyote Ridge in Santa Clara County earlier that day and released at the park, where Stanford biologist Stuart Weiss has spearheaded the effort to reintroduce the checkerspots.

Weiss said that this year's consistently cool temperatures and late rains have so far created healthy conditions to grow the native plants that the checkerspot caterpillars need to survive.

"The thing that's really critical is that the host plants don't die out," he said.

The checkerspot butterfly, which is a federally listed endangered species, numbered around 4,500 adults in the Edgewood area in 1997, Weiss said.

Nitrogen contained in exhaust from vehicles traveling on nearby Interstate Highway 280 created an artificial fertilizer, which allowed invasive grass species like Italian rye to thrive and crowd out the native species that the checkerspot butterflies depend on, Weiss said.

The checkerspots were extinct in the area by 2003.

The effort to reintroduce the species - which is funded by a myriad of public and private grants -- includes controlling invasive grasses by mowing, and transporting butterflies and caterpillars from nearby ecosystems where they thrive, like the 7,000-acre open space at Coyote Ridge.

For the second year in a row, biologists working with the San Mateo County Parks Foundation and a team of butterfly volunteers -- also known as "checkerspotters" -- released more than 4,000 checkerspot caterpillars at Edgewood in February and March.

While it's still too soon to judge success, early observations by biologists and checkerspotters -- who fan out across the windswept hills during butterfly counts -- indicate that the restoration effort is having an effect.

"We're pretty optimistic," Weiss said. "We think we've got the timing right two years in a row."

More information on visiting Edgewood Park or volunteering can be found online at www.friendsofedgewood.org.

Copyright BAYCN - Bay City News