Vanessa Sabarese was at a bit of a crossroads in her life a few years ago.
"I was not in a good place," Vanessa confesses, "a little lost, a little confused."
A journey of self-discovery was in order, Vanessa believed. What she never could have expected, though, is that the key to that journey already sat ten feet outside her Noe Valley front door.
"It has helped me connect with others, connect with myself," Vanessa says.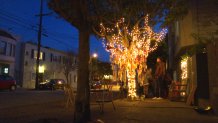 "It" is a 20-foot tall, Victorian Box tree. One that, at the moment, has perhaps 300 slips of paper hanging from it. On each, someone has written a wish.
"This person wishes for a boyfriend," Vanessa says as she peruses the wishes hanging from her tree. "This one wishes happiness for everyone."
WATCH MORE BAY AREA PROUD STORIES
Vanessa came up with the idea for the "Wishing Tree" four years ago. Each holiday season since, Vanessa puts out pens, paper, and ribbons along with a note asking people to anonymously write down their wishes and words of gratitude. Each year, hundreds of people take part, covering the lower half of the tree in dangling paper.
The idea came to Vanessa as part of that journey of self-discovery. She read a book called "The Wishing Year." It extolled the virtues of wish-making to change one's life. The idea resonated with Vanessa, who thought it too too good not to share. Thus, the "Wishing Tree" was born.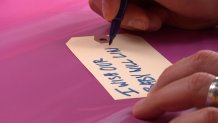 That first year she put up a sign, she wasn't sure what would happen.
"And then, the wishes started coming in," Vanessa says. Roughly 200 that first holiday season, and more each year after that.
Vanessa believes that, while whimsical in nature, writing down wishes for people is often a profound experience.
"When do you get to wish for whatever you want?" Vanessa asks. She feels it forces people to truly reflect on what is important in their lives, and writing it down for all the world to see gives it a weight, and a meaning, it didn't have before.
The tree has done a lot for Vanessa as well.
"It's like I'm on this journey and I see all these people leaving these wishes. Some shallow wishes, some profound wishes. People really bare their soles and it makes me feel connected to them."
Vanessa says, on a practical level, the tree has enabled her to meet more of her neighbors than she ever had before, and it has become something of a gathering point in the neighborhood.
"I hear people laughing out here at night, reading all the wishes," Vanessa says.

[[286385011, C]]