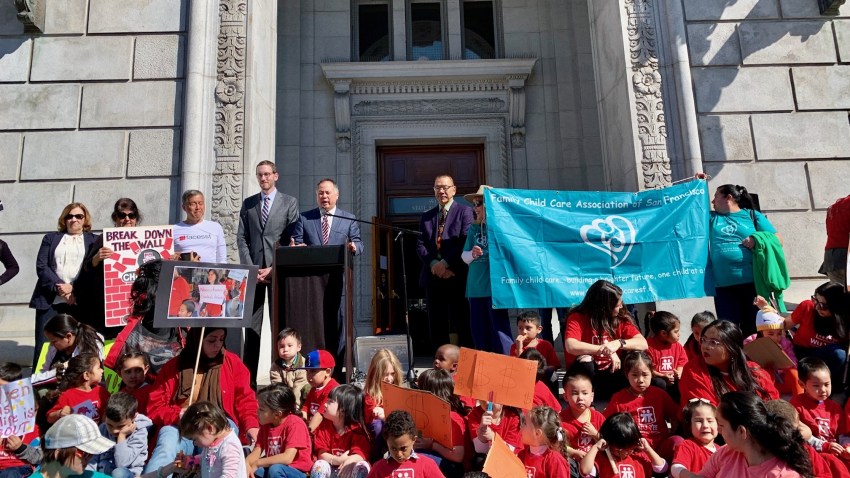 Hundreds of San Francisco toddlers and preschoolers joined their teachers and parents Friday morning for a "Walk Around the Block" event outside of the city's California State Building, calling on state leaders to increase funding for early care and education.
Joined by Sen. Scott Wiener, D-San Francisco, Assemblyman Phil Ting, D-San Francisco, and city Supervisor Norman Yee, the group is asking for Gov. Gavin Newsom to address a number of issues within the early care and education system.
Although Newsom has already included $2 billion for ECE in a proposal for the 2019-2020 budget, the teachers and their parents say the budget fails to address pay raises for teachers and accessibility gaps for kids and their parents.
Speaking to the crowd, Ting said, "We all know that all your staff doesn't get paid nearly enough, especially not in San Francisco. For too long we have really taken for granted all of your hard work and not really given you all of the tools in terms of training and development."
According to the advocacy organization Early Care Educators of San Francisco, low wages for teaching positions result in more vacant positions, contributing to a drop in the quality of care as well as reducing slots available to children.
"Education doesn't start when you're five and going into kindergarten, it starts from the minute you are born," Wiener said. "We need to make sure that we have the infrastructure in place and the atmosphere in
place so that all of our children can be educated, affirmed, fostered and healthy from the moment they are born and that's what this is about."
Additionally, he said, "We want workers to be able to afford to live and raise their own families here in San Francisco and in the Bay Area.
"We need to pay our early childhood educators what you deserve and what it takes to live and survive and thrive in this community," he said.
Yee said, referring to a windfall in the city's Educational Revenue Augmentation Fund that was recently approved to support early childhood education, "We were able to fight for some funding this year to
give to teachers, $10 million worth -- actually $30 million over three years -- but we all know that's not sustainable. We need the state to kick in because this $30 million, compared to what the state can do, it's pennies."
In addition to asking for higher wages for educators, the group is also asking state leaders to increase subsidies for early childcare, making it more affordable for parents with kids up to 3 years old.
"We know that the most important thing for early child education is, one, access; making sure that children have a seat for themselves and their families in a quality learning environment," said Monica Walters, CEO
of Wu Yee Children's Services. "Secondly: how do you learn? You learn from your teachers. Teachers are the backbone of quality early education and we need to pay our teachers for their invaluable, dedicated work."
Copyright BAYCN - Bay City News