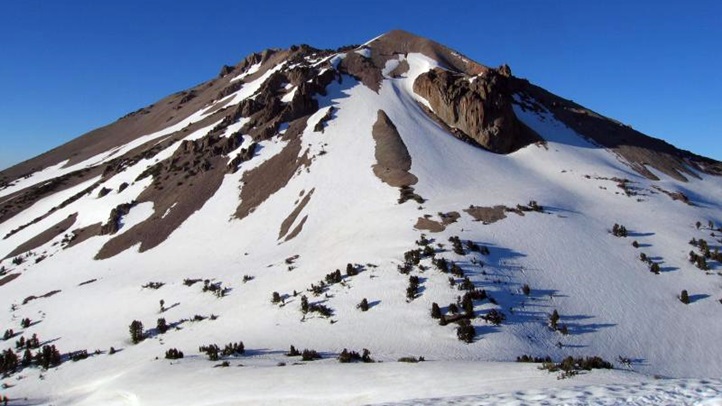 VAST VISTAS: Check the weather these days in some of California's more remote, nature-exquisite locations and you're bound to see a single word, over and over, in an array of variations: snow. You might see "ice," too, or "sleet," or "flakes," but whatever terminology is used you know this: It is very cold and very drift-tastic in some of our national and state parks nowadays. That includes Lassen Volcanic National Park, which historically is home to some tremendous snow action when winter makes its parka-ready debut. True, the park, which is well over 106,000 acres, does have "volcanic" in its handle, meaning that it can get incredibly hot in parts (look to the famous fumaroles within the park's borders). But in...
JANUARY, FEBRUARY, AND MARCH, and even early April, Lassen Volcanic is all about mittens, knit caps, and... snowshoes. There are, in fact, a number of ranger-led snowshoe outings in the off-the-busy-track destination, which is located up in the northeast-y part of the state (not too far, all told, from Mt. Shasta and Medicine Lake, Lassen Peak's California-based Cascade siblings). They happen each weekend, Saturday and Sunday both, starting at the sun's-high hour of 1:30 p.m. and wrapping two hours later. There are some to-knows, like no poles allowed, and the all-important southwest entrance meet point. Oh, and your snowshoes are provided, too (so, yeah, if you don't happen to have a pair in the front closet, no sweat).
SERENE SCENE: While skiing and boarding are popular wintry pursuits, snowshoe fun also has its place in the national park scene. And definitely at one of the hottest, coldest, and out-of-the-way-iest spots in all of the Golden State. And, yes, "out-of-the-way-iest" is high praise, for if you're seeking a serene scene, with a general quiet-a-tude, but still want to be in a park setting, this could be your dream destination. It's spectacular, and brimming with snow, so check road conditions, chains, and such, before heading in.
Copyright FREEL - NBC Local Media