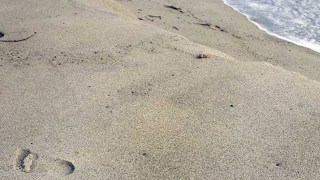 A baby dolphin died on a beach last week in San Teresita, Argentina, after a group of people passed the animal around for pictures, according to the Argentina Wildlife Foundation.
Beach-goers at the resort in Argentina's Buenos Aires province pulled the baby dolphin and its older sibling from the water when the animals swam close to shore.
According to AWF, at least one of the animals — both Franciscan dolphins vulnerable to extinction — was killed, although the non-profit Fundación Mundo Marino said in a statement it could not confirm the animal had died.
Photographs and videos of the incident surfaced on Facebook and Twitter, showing the small dolphin clutched by a beach-goer and surrounded by a growing crowd.
The dolphin is later seen in a YouTube clip, shared by animal rights organization PETA, lying motionless on the beach.
"One can only imagine the trauma experienced not only by this baby, who was passed around like a toy by marauding tourists, but also by his or her grieving mother," PETA wrote on its website Thursday, urging authorities in Argentina to track down and arrest the people responsible.
In a statement posted Feb. 16 in Spanish, the AWF said the Franciscan dolphin population has dwindled to fewer than 30,000.
The organization also stressed that, because of its thick skin, the dolphin can't survive for long out of the water in Argentina's hot climate. High temperatures can cause dehydration and death, which may have been the case for the baby dolphin in San Teresita, according to the AWF.
The AWF said the incident should highlight the importance of leaving dolphins in the water and helping to rescue them when they appear to be in trouble.