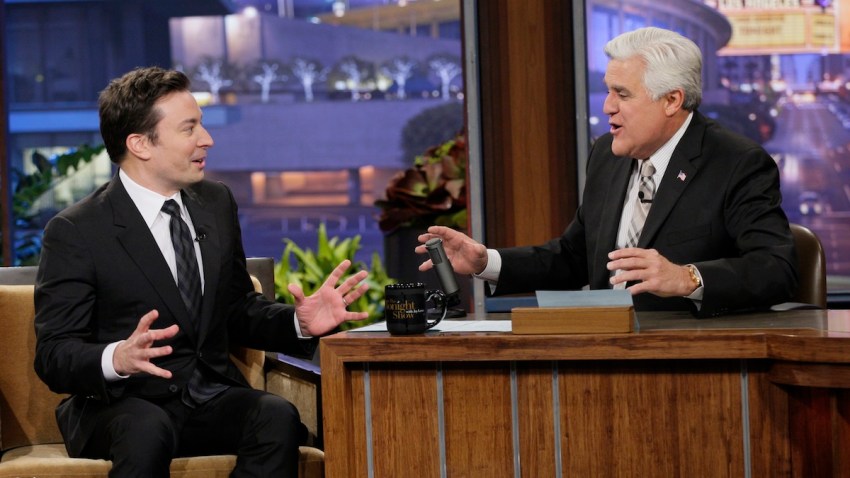 On "The Tonight Show," Jay Leno and Jimmy Fallon poked fun at each other while taking a walk down memory lane.
Before introducing Fallon, Leno joked that the "Tonight Show" host was on the program "to tell me about his new job."
Fallon begins his legacy on the "Tonight Show" on Feb. 17 after Leno has served as its host for over two decades.
But he's not done making jokes just yet -- at the beginning of the interview, Leno took jabs at Fallon's recent "Men's Health" cover.
"Is that a gold chain around your neck?" Leno teased. "And, it's a little touched up."
Later, Leno played a clip of Fallon's first appearance on the "The Tonight Show" in 2002. Fallon wore a three-piece suit and was visibly nervous.
"I look like a banker on 'Little House on the Prairie,'" Fallon said.
Leno also showed a picture of his own first appearance on "The Tonight Show," wearing a green-hued three-piece suit.
"You look like a stylish leprechaun," Fallon said.
Finally, Fallon performed his "Thank You Notes" bit on his future show, starting off with a joke about the Seattle Seahawks' complete shutdown of the Denver Broncos at the Super Bowl.
"Thank you, Jay Leno for passing the torch to me," Fallon said. "Hopefully it doesn't get intercepted by a Seahawk."
Then, Fallon joked that Leno hazed him throughout the years.
"Thank you Jay for teaching me to be a late night host," Fallon said. "But was it really necessary for me to 'wax on, wax off' your entire car collection? I didn't know I was going to get Miyagi-ed when I came out here."
Fallon ended the segment with a heartwarming, more serious sentiment.
"And finally, thank you Jay Leno, for carrying on the proud tradition of the 'Tonight Show' host with such humor and class and for being nothing but gracious and generous to me over the past years," Fallon said. "I will do my best to make you proud every single night."
Watch the torch hand-off below.