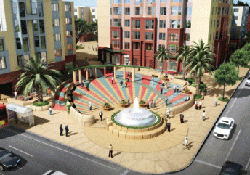 Salma Hayek has suffered a devastating loss.
The 49-year-old actress revealed on Instagram Friday her dog, Mozart, was fatally shot. His body was found at her ranch.
"I haven't posted for a week as I been mourning the death of my dog, Mozart who I personally delivered out of his mother's womb," she wrote, alongside a photo of her pet, a German Shepard mix. "He was found dead in my ranch last Friday with a shot close to his heart."
"I am hoping that the Washington State authorities do justice to this wonderful dog whom in 9 years never bit or attacked anyone," she continued. "He loved his territory and never strayed away...he was the most loving and loyal companion. He didn't deserve a slow and painful death. #doglover #animalrights #dog #dogoftheday #rip #delivery #washingtonstateauthorities."
PHOTOS: Stars with Mexican heritage
Hayek's ranch also doubles as an animal sanctuary and houses several rescue dogs, as well as horses, alpacas, parrots and other pets.
The actress said on "The Tonight Show" last summer she has nine dogs.
"I pick up dogs from the street — not even rescue from the shelter — I pick them up from the street," Hayek told "Tonight" host Jimmy Fallon.
Copyright E! Online