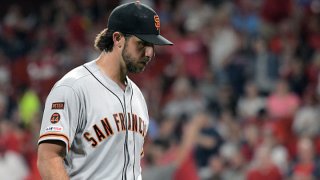 SAN DIEGO -- The news that Stephen Strasburg had just signed the richest pitching contract in MLB quickly bounced through the lobby at the Manchester Grand Hyatt on Monday morning, but it didn't take long before the focus turned elsewhere.
Does Strasburg's $245 million contract mean it will take $300 million to sign Gerrit Cole? And what does this surprisingly strong market mean for longtime Giants ace Madison Bumgarner, who reportedly is seeking at least five years and $100 million.
Bumgarner downplayed concerns about the state of free agency throughout his final year, and it appears he was right. There will be a line of suitors, and the Giants remain part of that group.
President of baseball operations Farhan Zaidi told NBC Sports Bay Area on Monday that the Giants will meet with Bumgarner's agents this week and a reunion remains possible.
"We're involved in those discussions," Zaidi said while appearing on Winter Meetings Live. "We're planning to meet with his representatives this week and they have other meetings scheduled, too. That's what happens when a player is a free agent, they're going to explore all their options. Guys are looking for different things, looking for maybe a particular geography, maybe a team in a specific part of their competitive cycle.
"We're one of the suitors. We're just going to put our best foot forward and see what happens, but he's earned this opportunity to be a free agent and, as we expected, there's no shortage of interest in a guy with his pedigree."
Bumgarner has been connected to about a third of the majors at this point. The Braves and Phillies were two teams with early interest but seemingly have spent most of their free-agency money elsewhere. The New York Post's Joel Sherman reported Monday that the division rival Diamondbacks have checked in on Bumgarner, and the Cardinals have also recently been connected.
Industry sources speculated that the Angels could be a suitor if they miss on Cole, and sources also said the Twins remain a strong possibility. Some Giants people believe the Twins, who won 101 games last year with a young team, could emerge as the strongest contender for Bumgarner's services.
[RELATED: Giants reportedly have 'serious candidate' for pitching coach]
The Giants have been on the outside of the race throughout the offseason, but it's not uncommon for a team to let a popular player hit free agency with the understanding that the sides will circle back at the end of the process. Bumgarner is as popular as any recent Giant, and Zaidi said the club will consider what any move would mean to the city and the fan base.
"I think it's definitely part of it," Zaidi said. "People talk a lot about how we're in the entertainment business and one thing I've learned about the fans of our team is the connection they have with the players is different than what I've experienced elsewhere, and that's something that I've had to learn and appreciate and make an adjustment to. At the same time, I think ultimately what fans respond to is a winning team. We saw it when our organization was winning the World Series and as we haven't been a winning team the last three years, it's kind of shown up at the turnstile.
"I think (winning) has to be our primary goal and sometimes that takes making difficult decisions, but we definitely appreciate the connection that our fans make with these players. It's very unique in baseball."