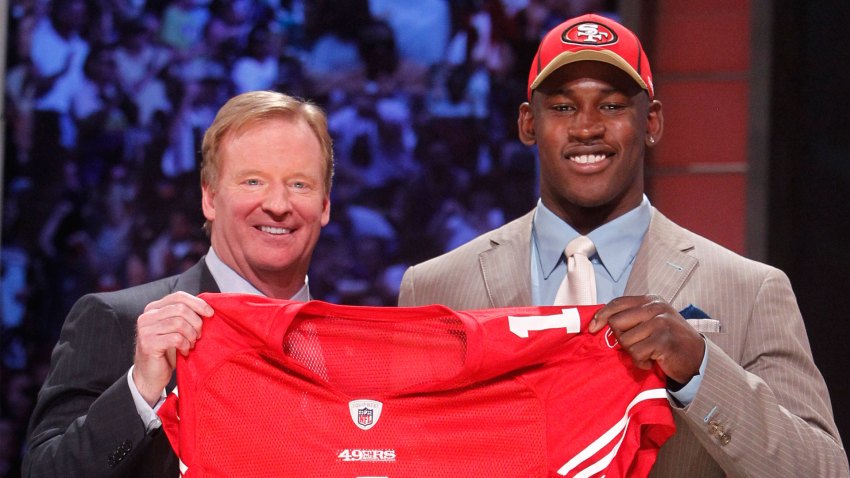 Raiders edge rusher Aldon Smith is pushing to get reinstated into the NFL after more than a year banished after repeated violations of the league's substance abuse policy, and took a necessary step in his quest on Friday.
Smith met with NFL officials and Commissioner Roger Goodell, according to an NFL Network report, to plead his case for reinstatement.
It's uncertain how that meeting went, or how it will influence Goodell's ruling on Smith's case. The commissioner is judge and jury in these situations, and there is no formal timetable for him to issue a ruling.
Smith applied for reinstatement on Oct. 3, a few weeks after his application could get turned in. He was eligible for reinstatement on Nov. 17, but the NFL has remained silent on the matter in accordance with league policy.
The Raiders hope Smith can return this season, and give the Raiders pass rush another potent weapon off the edge. There are only three games left in the regular season, but Smith is in fantastic shape and wouldn't need much practice time to be ready to contribute as a rotational pass rusher.
Smith spent 120 days in a rehab facility in Colorado starting this summer, and hopes his case is sound enough that Goodell will let him return to work.
Smith signed with the Raiders just before the 2015 season began. He was released by the 49ers following his latest run-in with the law, which resulted in misdemeanor charges of DUI with a prior conviction, hit and run and vandalism.
He played nine games in Silver and Black before the NFL took punitive action. He has been away from the team ever since, only able to communicate with the team's director of player engagement. He also stays in touch with his teammates.
Interviewed briefly at a Warriors game in early November, Smith expressed confidence that he would return when eligible. That hasn't happened yet, though a meeting will certainly increase the possibility Goodell makes a ruling in this case.
Here are the requirements for reinstatement, according to the league's substance abuse policy:
Any Player who has been banished under Stage Three may apply formally in writing for reinstatement no sooner than 60 days before the one-year anniversary date of the letter so banishing him.
The application should include all pertinent information about the Player's:
(a) Treatment;
(b) Abstinence from Substances of Abuse throughout the entire period of his banishment;
(c) Involvement with any Substances of Abuse related incidents; and
(d) Arrests and/or convictions for any criminal activity, including Substances of Abuse-related offenses.
Set forth below are the procedures to be used when an application is received by the Commissioner.
1. Within 45 days of receipt of the application, the Player will be interviewed by the Medical Director and the Medical Advisor, after which a recommendation will be made to the Commissioner with regard to the Player's request for reinstatement.
2. The Player will execute appropriate medical release forms that will enable the Commissioner's staff and NFLPA Executive Director's staff to review the Player's substance abuse history, including but not limited to attendance at counseling sessions (individual, group and family); attendance at 12-step and other self-help group meetings; periodic progress reports; and all diagnostic findings and treatment recommendations.
3. The Player will submit to urine testing by an NFL representative at a frequency determined by the Medical Advisor.
4. The Player will agree in a meeting with the Commissioner or his representative(s) to comply with the conditions imposed by the Commissioner for his reinstatement to the status of an active Player.
5. All individuals involved in the process will take steps to enable the Commissioner to render a decision within 60 days of the receipt of the application.
Copyright CSNBY - CSN BAY