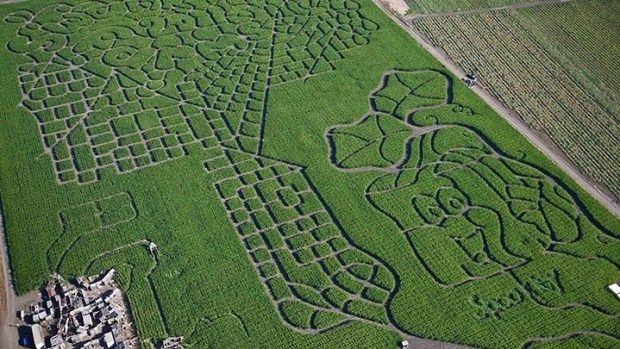 Swank Farms
An aerial of a 2011 Swank Farms corn maze.
MAZE BRAIN: It's well-known that maze teasers and games can challenge our brain and keep our smarts on their toes. But what of the seasonal corn maze? We're of the opinion -- the unscientific opinion, we'll add -- that a pleasurable day out in a corn maze not only is positive for our various thinking mechanisms but it works wonders for our emotional intelligence as well. On one hand you're problem-solving; on the other you're out in the fresh air with friends making mischief and getting lost. Basically every thing you require is covered. Swank Farms in Hollister has a huge maze going, as it has in years past. Plus? Pumpkins. You're not going to try and locate your pumpkin on Oct. 31, right? We did that one year and came hope with a honeydew melon to carve.
SWANK STUFF: There are two mazes to try. The one for tots is the Spookley Maze and the one for adventurers who don't mind doing a fair amount of head-scratching is the Maniac Maze. And the Conover Mystery Ranch? That's only on weekends and only after dark. If you think they're going to let you loose in the corn, you're completely correct. Can you handle being in corn in the dark? Isn't that like one of our most common human fears, after having to give a public speech while wearing a backwards bikini? We think it might be. Look, we love corn stalks -- they're beautiful -- but if you do venture into the maze after sunset, be strong, be brave, and have a blast. Swank Farms' holiday shenigans are on through Halloween; check schedule for hours and particular events.