Raj Mathai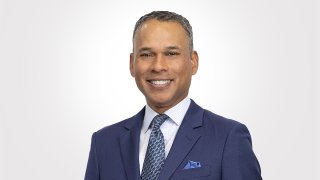 Twelve-time Emmy award winner Raj Mathai is the weeknight news anchor for NBC Bay Area. Raj anchors the nightly 5:30 p.m., 6 p.m., 7 p.m., and 11 p.m. News and is among the Bay Area's most well-known journalists.
Raj interviews high profile newsmakers including Vice President Kamala Harris, Governor Gavin Newsom, General Colin Powell, baseball legend Barry Bonds, 49ers owner Jed York and many more. He also field anchors NBC Bay Area's breaking news and big event coverage including the 2020 Super Bowl in Miami, 2019 Gilroy mass shooting and 2017 Inauguration of Donald Trump.
He joined KNTV in 1998 as Sports Director and transitioned to primary news anchor in 2011.
He has reported on-location from the Olympics in London, Vancouver, Turin, Athens, Salt Lake City and Tokyo.
Raj is among the handful of people in the world to have run the Olympic Torch three times (1996, 2002 and 2008). He was part of the Giants broadcast team (2008-2012) with Jon Miller and Mike Krukow during NBC Bay Area telecasts of the Giants.
Raj grew up on the Peninsula and attended Los Altos High School. He went on to graduate from San Diego State University with a degree in journalism and political science. Before arriving at NBC Bay Area, he worked for NBC stations in Fresno, San Diego, and Arizona.
In 1995, Raj became the country's first Indian sportscaster. Prior to his career in television, he served as a public relations assistant for the San Diego Chargers for five seasons.
Raj is on the Board of Governors for the San Francisco Symphony and Board of Directors for the Asian Pacific Fund. He and his family contribute to various Bay Area charities.
Raj is a regular guest instructor at the Stanford Graduate School of Business. Raj was born in Trivandrum, India.
Follow Raj on Twitter @RajMathai and on Facebook.