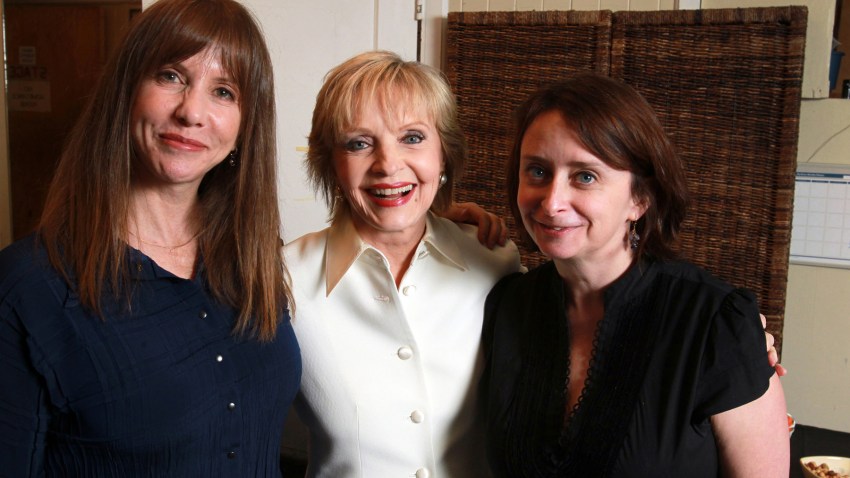 Live from SF Sketchfest on Saturday night (and Sunday afternoon), four female alums of NBC's long-running sketch comedy show will perform in "Celebrity Autobiography."
"Saturday Night Live" grads Maya Rudolph, Rachel Dratch and Janeane Garofalo will be joined by one of the original Not Ready for Prime Time Players, Laraine Newman.

Newman has performed with "Celebrity Autobiography" Co-Creators Eugene Pack and Dayle Reyfel for the better part of a decade. In it, comedians and actors read pages from celebrity tomes, and while they have to stick to the script—the pages they are given to read—the laughs come from their vocal interpretations and body language.
Newman, for example, does a mean Miley Cyrus.

"That's really the fun of it. My process, I've always tried to find a way into the content," Newman said. "When I did Hedy Lamarr, I had actually read her book a long time ago when I was a teenager. It had made an impression on me. She's really an interesting character. I heard they were thinking of making a movie of her life. She had been an inventor and worked for the government as a spy, I think, during World War II, but she was also a nymphomaniac. So, she's got everything."

Newman started doing dialects as a child, partly inspired by her love of Shirley Temple records. She still practices voices when driving and regularly does vocal gigs for animated projects. It was partly her knack for altering her voice that allowed Newman to disappear into characters on those early "SNL" days, whether she was spewing filth at Richard Pryor during an "Exorcist" parody or trying to get Godfather Vito Corleone to not block his feelings during a group therapy sketch as Valley Girl Sheri.

"That voice really morphed to become a catch-all voice of young people," Newman said of the Valleyspeak that she undoubtedly helped spread to other parts of the nation. "There was a story on NPR about dialects—how the Valley dialect has become the way all the teenagers speak."

Not being able to improv the dialogue during "Celebrity Autobiography" means Newman has to rely on other tricks from her bag, some of which she picked up from former teacher, Master Mime Marcel Marceau.

"You can get laughs without words, and I love doing that," Newman said about a primary lesson she got from Marceau. "Studying the technique involved a lot more than just mime. You had to build a lot of strength, because if you saw the illusions he created when he was a young man, like lifting a barbell and taking him all the way down to the floor, it takes an incredible amount of strength. We were doing ballet. We were doing fencing."

Aside from her sisters in arms from "SNL," this cast of "Celebrity Autobiography" also features a couple of regular troupe members from Christopher Guest's improv-heavy films like "Best in Show." Jennifer Coolidge (Saturday only) and Fred Willard will take to the stage to read, and no matter what comes from Willard's mouth, it will be laced with hilarity.

"He is so sincere. What's surprising is there really is a craft to what he does. It doesn't look like there is," Newman said of Willard. "I heard his interview on Marc Maron's 'WTF,' and I had no idea that his trajectory was so singular with regard to improv. That is what's so disarming. I didn't realize he really is crafting the joke all along."

"Celebrity Autobiography" at Marines' Memorial Theatre in San Francisco will also feature Roger Bart, Maria Bamford (Sunday only) and Andy Kindler (Sunday only).Maya Rudolph will also only be in the Saturday show. Tickets for Saturday's performance were nearly sold out as of this writing, but tickets for the 5 p.m. Sunday show were still available. Visit sfsketchfest.com for more information.

Corey Andrew has been interviewing comedians and writing about comedy for the last decade and a half. He recently published the book, "Laugh Lines: Conversations with Comedians." Corey was a writer and performer with Midwest sketch troupe, The NonProphets, before moving to the Bay Area with his family several years ago. If you have ideas for future columns about comedy, you can send them to coreywrites@yahoo.com or follow him at twitter.com/coreywrites.