A new revelation in the corruption case involving suspended state Sen. Leland Yee: One of the FBI's undercover agents was removed from the case for alleged financial misconduct.
All 29 defendants were in court for Thursday morning's status conference. These pre-trial conferences can be dry, housekeeping procedures – or they can reveal pieces of a case that have been hidden. Thursday, we got the latter. The defense raised questions about an undercover agent used early on in the corruption investigation of state Sen. Yee.
Yee left the courthouse without talking without talking to reporters, but inside U.S. District Judge Charles Breyer's courtroom, defense attorneys wanted the government to reveal information about undercover "Agent 4773, an agent who posed as a businessman from Atlanta interested in buying political favors from Yee.
Court documents claim his first payment of $500 came in September 2011; a month later $5,000; another $5,000 in April 2012; and then after an October phone call, a $10,000 cash payment to support Yee, but delivered by another undercover agent.
After that Agent 4773 disappears from the indictment.
In fact, the indictment states final payment of $10,000 in cash was delivered to Defendant Keith Jackson at a San Francisco restaurant by another undercover agent posing as a mobster and business associate of Agent 4773.
In court Thursday, the defense attorney's claim he was pulled from the investigation by the FBI for alleged financial misconduct and they want the details.
Judge Breyer asked prosecutors to work with the defense to provide information on the identity of the agents and informants in the case. Case vs. Yee and Other Defendants Splits Into Two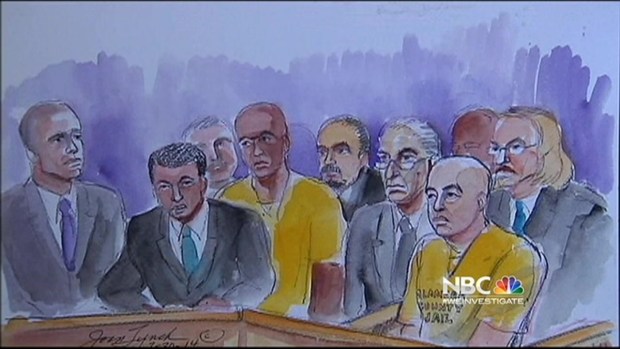 Yee's attorney said he doesn't know the why the agent was removed, and Curtis Briggs, the attorney for accused gangster Raymond "Shrimp Boy" Chow, said he can't talk about it.
"There's been a gag order issued against my team," Briggs said, "and I cannot discuss that, and I can't acknowledge that that's true."
Judge Breyer is pushing the government to provide the information on the undercover agents and informants as well as wiretap transcripts and any other evidence prosecutors plan to present.
The next date before Judge Breyer will be a motions hearing set for Nov. 12, when we might find out what caused the FBI to pull one of its undercover agents from the investigation, what constituted financial misconduct – and did it have anything to do with the bribery investigation of Leland Yee? If it did, it would add another wrinkle to this already complex case.