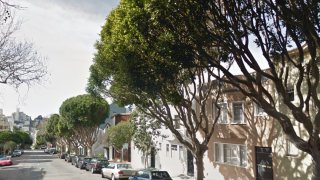 The 1000 block of Lombard Street is marketed to tourists as the crookedest street in the world, and the resultant foot traffic on nearby blocks has neighbors raising public safety concerns.
Residents of Lombard Street's colloquially-known "Broccoli Block" (300-500 blocks of Lombard) want 28 potentially dangerous ficus trees replaced by safer ones.
A dozen residents attended a Public Works hearing at City Hall on Wednesday to ask for their removal and replacement, Hoodline reported.
Decades of improper care, including not enough pruning, have made the trees unhealthy and vulnerable to falling.
"It's hard to prune some of these trees now to address all of these structural issues we're finding," Acting Forester Chris Buck told the publication.
A decision from Public Works is expected in the coming weeks.