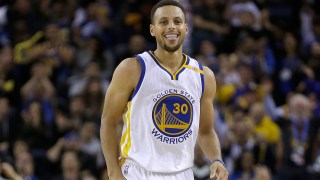 Two-time reigning NBA MVP and Golden State Warriors star Stephen Curry continues to dazzle this season and leave fans in awe with his play on the court.
But it is also what he is doing off the court that is making a difference. Curry on Sunday visited a 7-year-old boy battling leukemia in Indiana. The Warriors were in town to play the Pacers. The boy, Brody Stephens, recently received a bone marrow transplant.
"The situation yesterday keeps everything in perspective in what we do for a living," Curry said to reporters on Monday. "(Brody) spent 91 straight days in the hospital battling leukemia and all he does is support our team and myself. It's amazing and humbling to have what we do on the floor be an inspiration to him to keep fighting."
Steph visits his buddy Brody during the off-day in Indiana. pic.twitter.com/lPHmizr58B

— GoldenStateWarriors (@warriors) November 20, 2016
How bout my man Brody!! Working on his game w tubes pic.twitter.com/jXtbhLVC9M

— Dan Dakich (@dandakich) November 16, 2016
Brody + Steph Curry= Best Friends Forever. https://t.co/IdP6O1cPE5

— SportsCenter (@SportsCenter) November 22, 2016