What to Know
Dominique Crenn opened Atelier Crenn in 2011, serving a modern and artistic high-end menu
Three stars is the highest honor the Michelin Guide can give a restaurant
Of the 15 U.S. restaurants with three Michelin stars, Atelier Crenn is the only one with a female head chef
When we sat down to talk to her, Chef Dominque Crenn said she couldn't believe it had been a week since the phone call that had her jumping up and down, screaming uncontrollably.
"I'm French — I grew up with the Michelin," she said of the travel guide that sends anonymous inspectors to restaurants and rates them each year. "I'm very proud that a French guide will recognize me outside of France."
Crenn became the first female chef in the U.S. to receive two Michelin stars after opening her flagship restaurant, Atelier Crenn, in 2011. In the 2019 Michelin Guide, she'll again be blazing a trail as the first female head chef of a U.S. restaurant to be awarded three stars — the guide's highest honor.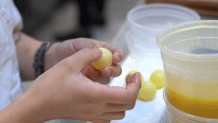 "I've said in the past the star doesn't define me," Crenn said. "What defines me is what I do with it."
Crenn said she hopes the recognition she's receiving will serve as a platform on which she can help to level the playing field for women in the culinary arts — a field that's historically been male-dominated, especially in her native France. She said she receives countless emails from girls and young women who want to follow in her footsteps.
"I really work hard to make sure that people look at me as being a cook — not look at me as being a woman," Crenn said. "It doesn't matter what gender we are, we can do it too. Maybe better sometimes."
Crenn runs three restaurants in San Francisco and a farm in Sonoma County where she grows produce for the dishes she creates at Atelier Crenn. The name means "Crenn's Workshop," and is an homage to her father, whose paintings line the walls of the 8-table dining room.
It takes all day to prepare for dinner at Atelier Crenn, where prep cooks come in early in the morning to get ingredients ready for the kitchen crew that will take over in the evening. Some are young and some are veterans of the culinary world, but to Crenn, everyone on the team is important.
"I treat everyone with respect," she said. "I'm not better than anyone in my kitchen. But I told them they're not better than me either."
Pastry chef Juan Contreras, who's worked with Crenn since before the restaurant opened in 2011, said the team atmosphere has garnered a reputation for Atelier Crenn as a great place to work.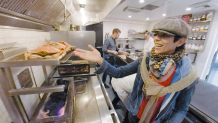 "You come in, first person you say hello to is the dishwasher," he said. "We've had people start and work here from higher end restaurants, famous restaurants in Europe... It's always humbling to hear this is one of the easiest kitchens they've worked in."
Contreras oversees a spacious pastry kitchen at Atelier Crenn that serves Crenn's three restaurants, making desserts, chocolate candies and elaborate edible sculptures. He's been an integral part of the business since it began, though he credits Crenn for taking the initial leap.
"She's basically the risk taker," he said. "I would say we're like the yin-yang — where I'm always like, 'Oh, Chef, I wish you'd wait on this, or maybe some other time,' and she's more like, 'Let's do it!' I mean, we opened the restaurant because of her."
Dinner at Atelier Crenn, in San Francisco's Cow Hollow neighborhood, costs $335 plus tax and optional wine pairings. Next door, Bar Crenn offers more affordable options, and across town in Hayes Valley, Petit Crenn serves an ever-changing menu of more casual fare.