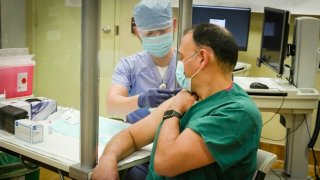 Antioch Mayor Lamar Thorpe and Walnut Creek Mayor Kevin Wilk held a press conference Tuesday in which they publicly asked other Bay Area mayors to require all city employees to be vaccinated in order to mitigate the spread of the coronavirus.
During the press conference, mayors Thorpe and Wilk addressed infection rate numbers as well as how vaccinations help decrease those numbers.
In Walnut Creek, a vaccination mandate for all city employees went into effect Aug. 16.
"This is being done to protect the health of our employees and public," the mayor said via Twitter.
"Since that announcement was made, we've seen an update of 5% of vaccinations just within the city employees of Walnut Creek," Mayor Wilk said.
"So I spoke with Mayor Thorpe last week and I challenged and encouraged him to have Antioch join us and do the same thing and be a leader in the East county," he said.
In a statement, it was explained Antioch Mayor Lamar Thorpe is concerned about the disparity in vaccination rates within the African American community and is hoping to change and address that disparity.
Both East Bay mayors hope all Bay Area mayors enforce vaccination mandates for city employees and lower the spread of the virus.
This is a developing story. Please check back for updates.