UPDATE: Dustin Hamilton was taken into custody in San Francisco on Friday. Read more here.
Authorities are searching for a man who burglarized his parents home in San Jose on Wednesday, stole a shotgun and left behind a 20-page manifesto where he threatened to kill people in San Francisco and any law enforcement members.
A family in San Jose said they came back home from vacation to find that their estranged son, Dustin Hamilton, stole at least two guns and threatened to come to San Francisco and kill as many people as he can.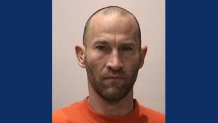 The family said that their shotgun was missing and a .357 Magnum revolver was also missing.
They also found a binder with a 20-page manifesto on their kitchen table in which Hamilton says that he hates San Francisco police.
Hamilton, who is diagnosed as schizophrenic, is reportedly off his medicine, police said. He is known to frequent the area of Bryant and Delancy streets in San Francisco and may have firearms on him.
"Hamilton is believed to be armed and dangerous at this time," San Francisco police said. "If you see Hamilton in public, do not attempt to make contact. Please immediately dial 911 to notify authorities."

Hamilton is 6 feet tall, weighs 145 pounds and has brown hair and brown eyes.
San Jose police said officers on Wednesday responded to a report of a burglary in the 1600 block of Husted Ave. in San Jose around 10:14 p.m. After investigating, they found that Hamilton stole firearms from a residence "and made threats to kill people in San Francisco and any law enforcement personnel."
The San Jose Police Department immediately notified the San Francisco Police Department, and both agencies are actively conducting follow-up investigations to find the suspect.
San Jose Police detectives have obtained a felony arrest warrant for Hamilton for burglary, threats and firearms possession. In addition, Hamilton has two outstanding felony warrants out of San Francisco for assault and vandalism.
Anyone with information is asked to call 911 or contact Detective Emilio Perez and Detective Matt Brackett of the San Jose Police Department's Assaults Unit at 408-277-5283.
Those wishing to remain anonymous may either call the Crime Stoppers Tip Line at (408)-947-STOP (7867) or visit the Silicon Valley Crime Stoppers website. Persons providing information leading to the arrest and conviction of the suspect may be eligible for a cash reward from the Silicon Valley Crime Stoppers.