It has been 43 years, but Gerry Tipton can still remember the very day he moved into his home in the Willow Glen Mobile Estates. The very day.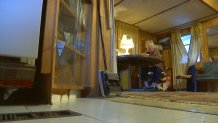 "Friday. April 14. 1974," Tipton said recently, sitting in a chair held together by rope, in a living room crisscrossed by electrical wires and extension cords.
There is now, though, another day in April that Tipton will hopefully remember a long time as well: this past Saturday. That was when a team from Rebuilding Together Silicon Valley descended on the legally blind and deaf 79-year's old trailer home to make it a nicer and more importantly safer place to live.
"He was definitely one of those cases that needed help immediately, a critical case we wanted to take care of right away," said Terry Gallo, Development and Outreach Manager for Rebuilding Together Silicon Valley. As part of celebrating its 25th anniversary, the non-profit chose to provide needed repairs to more than thirty homes and other non-profits in the South Bay including Tipton's.
Case Design and Remodeling sponsored Tipton's job and their entire staff turned out to volunteer on Saturday. Eric Copus, Director of Production for Case, says the company normally deals with much higher-end homes but this job feels like it has a higher purpose.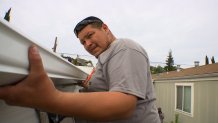 "You deal with a lot of people's wants. We're dealing with a need and to be able to fill a need and know that it makes a difference in his day-to-day basis is a big difference," Copus said.
Debbie and Jim Kabel co-own the design firm. They says this kind of project does as much for their employees morale and it will for Tipton's quality of life.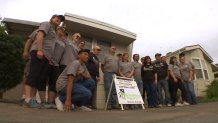 That's saying quite a bit when you consider all the improvements to Tipton's home: new wiring, new flooring, a new refridgerator, new skirting around the bottom of his home, and a new paint job just to name a few.