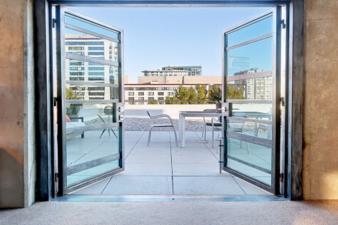 Twitter CEO Evan Williams doesn't need the money, but when he sells his San Francisco SoMA penthouse, he will be even richer than he already is.

One of the brains behind the San Francisco-based microblogging site's quick ascension up the social networking ladder is selling his two-bedroom, two-bathroom loft in the historic Heublein Building in San Francisco for $1,498,000.
It's far from the majority of his wealth: Twitter was recently valued at a cool $1 billion, and Williams previously sold Blogger to Google before the search engine's lucrative 2004 IPO -- which one presumes is how he afforded the loft in the first place.
The sale comes on the heels of fellow Twitter cofounder Biz Stone selling his cozy Berkeley cottage for a reported $575,000. Williams could be following the lead of his other Twitter buddy Mayor Gavin Newsom, who recently sold his bachelor pad to move into a more family friendly house ahead of the birth of his daughter.

Williams and his wife Sara Morishige Williams welcomed a baby boy, via a live Twittercast just like the mayor, in August.

The Williamses' old house is described as "a stunning, large Manhattan-style" penthouse loft with 11-foot ceilings and "sweeping views from a private patio," according to his real estate agent, Eric Turner.

Turner also touts the loft's proximity to SoMa's "world-class dining and nightlife." Not that that's any use to a new dad.
The couple is building a new, modern house which Morishige Williams is designing. They hope to have it built in 2010 -- which raises the question of where the Williams family will live if the loft sells quickly.