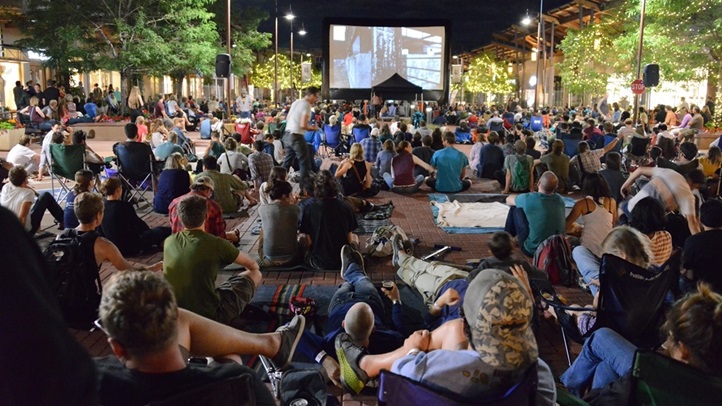 IF YOU LIKE BEER AND MOVIES AND CONVERSATION... we're going to go out onto a pretty steady, sure-to-not-fall limb here and say that maybe, just once, perhaps, you went out to a film with a few pals, and then adjourned to your local tavern, over a pitcher, to break down the plot points and character development and what in tarnation the director was thinking with that dream sequence.
For brew-appreciating cineastes have long paired the two arts, that of film and that of foam, and putting them together in a social, chitchatty, let's-raise-a-toast-to-movies way is the way of countless groups of friends. In that sudsy, cinema-cool spirit, and in the spirit of summertime outdoor screenings, too, New Belgium Brewing has gone on the road, with a map of 20 different cities and taps holding up to 17 New Belgium beers. It's the 2015 Clips Beer & Film Tour, and it is making for Sacramento's Southside Park on Friday, July 24.
IT ISN'T JUST THAT FANS... of the Colorado-based brewers are behind the films being screened (and that there's a film by two Fresno locals in the line-up). That's way cool and means that viewers who set up their blankets and low chairs'll be treated to stuff they haven't seen a million times before. It's that the tour gives "100 percent of the proceeds from beer sales" to local nonprofits along the way. Sacramento Area Bicycle Advocates is the 2015 nonprofit partner, so if you love biking even more than fine brew or fine films, this could be your night to lend some love to people putting sole-to-pedal on a regular and ardent basis.
GOLDEN STATE FILMMAKERS... Byron Watkins and Anthony Taylor will put in a hello, and maybe reveal some insider info about how they made their cinema treat on an iPhone. There's a definite DIY-a-tude to the works up on screen, and how summer, in general, is best approached. As for the beers on tap? Lips of Faith is promised, as well as some of the standards of the famous, Rocky Mountains-adjacent brewmakers.
Copyright FREEL - NBC Local Media