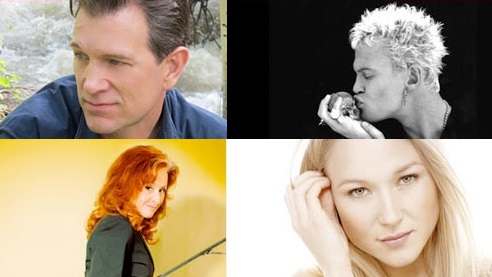 WINE AND SONG: The continue rise of winery-based concerts, an industry that's been thriving for a good long time now, is no surprise. Throw a beautiful setting in the mix, lovely beverages, a favorite band, and a twinkly summer night, and 100% of all people surveyed will give a hearty fist pump in response. It's a hard combination to top, and one that is not for messing with, and The Mountain Winery near Los Gatos is a prime example of that. Tickets for the 2013 season, a season that opens on May 24 with Juanes, went on sale on Monday, April 22.
ON THE STAGE: Juanes and Billy Idol are the first two musicians to kick things off in late May (not together, though we'd love to see that show). Bill Cosby is up next, revealing that it isn't all music all the time at Mountain Winery -- a little comedy works wonders, too. Jewel, Cyndi Lauper, Barenaked Ladies, Ben Folds Five, Ziggy Marley, David Byrne & St. Vincent, and Jim Gaffigan are on the calendar. And Huey Lewis and Chris Isaak won't be too far from their Bay Area-Stockton-NorCal stomping grounds.
THE WINING/DINING PART: Of course, a show at The Mountain Winery tends to involve what The Mountain Winery does best. There are dining options on a couple of decks, and offerings include short ribs, crab cakes, and all sorts of elegant choices that one doesn't always equate with concert dining (though a solid dinner helps with the dancing, sing-along-ing, and fist-pumping one must do at a concert).
The music season wraps on Sunday, Oct. 6 with Bonnie Raitt.
Copyright FREEL - NBC Local Media