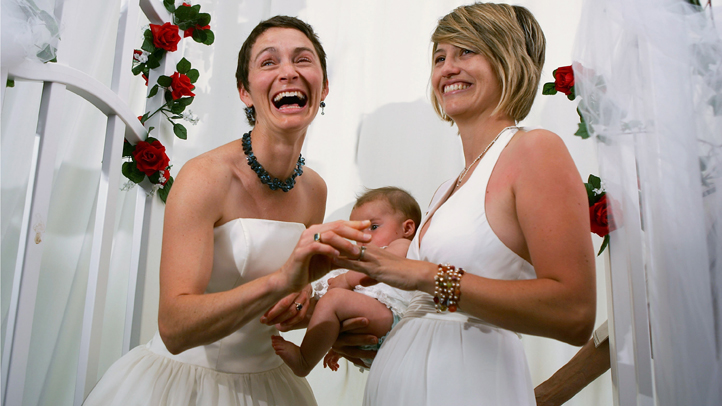 As the national debate over gay rights reached a crescendo with President Barack Obama's historic announcement of support for same-sex marriage, the Beltway was buzzing.
The source of the buzz was a memo by respected Republican pollster Jan van Lohuizen, warning GOP leaders that, unless the Grand Old Party moderated its positions and rhetoric on same-sex marriage and other LGBT issues, it could find itself marginalized into political irrelevance.
Said Van Lohuizen, "Support for same sex marriage has been growing and in the last few years support has grown at an accelerated rate with no sign of slowing down."
He continued, "Polling conducted among Republicans show that majorities of Republicans and Republican leaning voters support extending basic legal protections to gays and lesbians."
California Republicans have long heard that song; their party is caught behind the political and cultural curve on several social issues.
Just for years ago, Californians narrowly approved Proposition 8 (52 percent to 48 percent), which banned same sex marriage.
Fast forward to 2012. According to a March survey by the Public Policy Institute of California (PPIC), 52 percent of Californians support same sex marriage, while 41% oppose it.
Today, in this Deep Blue State, it's unlikely that any shift by probable Republican nominee, Mitt Romney, away from his opposition to same-sex marriage would make any difference in California's Democratic Presidential preference.
In statewide elections, the political arithmetic is pushing Republicans toward the periphery. (Currently, none hold statewide elective office.)
However, is "same-sex marriage" the kind of issue that could make a difference—positive or negative--in down-ballot, Congressional and legislative races, particularly in light of the new "top-two" primary and more competitive redistricting?
It remains to be seen how the same-sex marriage issue will be handled by each candidate in each new district.
A candidate running in the open primary—against not only opponents from other parties and independents, but against members of his or her own party--may try to use it as a means to differentiate from others in the race.
There's a highly competitive primary in CD 26, a new Ventura County-centric seat that leans slightly Democratic.
However, roughly one of 5 voters is registered as No Party Preference (NPP).
Arguably, the three major candidates are conservative Republican State Senator Tony Strickland, liberal Democratic Assemblywoman Julia Brownley and Ventura County Supervisor Linda Parks, a former Republican running as an NPP candidate.
None of the three have their views on same-sex-marriage up on their website—yet.
Who might be the first to take a stand? Why? How might Presidential turnout impact voters' choices and candidates' stances in down-ballot races like this one?
Might an African-American or Latino candidate be tempted to use the issue—one way or another—to stand out in a largely minority district?
Exit polls showed that majorities of African-American (70%) and Latino (53%) voters supported Prop 8 in 2008. However, a Field Poll taken this February showed 59% of Californians (a record high level) approve same-sex marriage, including 53% of Latinos and 50% of African Americans/others.
These days political shifts can occur at warp speed. Van Lohuizen maintains "…the trends [in increased support for gay marriage] show that [voters] are rethinking their position."
"As more people have become aware of friends and family members who are gay," he wrote, "attitudes have begun to shift at an accelerated pace. This is not about a generational shift in attitudes, this is about people changing their thinking as they recognize their friends and family members who are gay or lesbian."
In California, the 2012 elections will test the political impact of that "evolution."
Sherry Bebitch Jeffe is senior fellow at the USC Price School of Public Policy and the political analyst for NBC4.
Send us your thoughts via Twitter @PropZero or add your comment to our Facebook page.