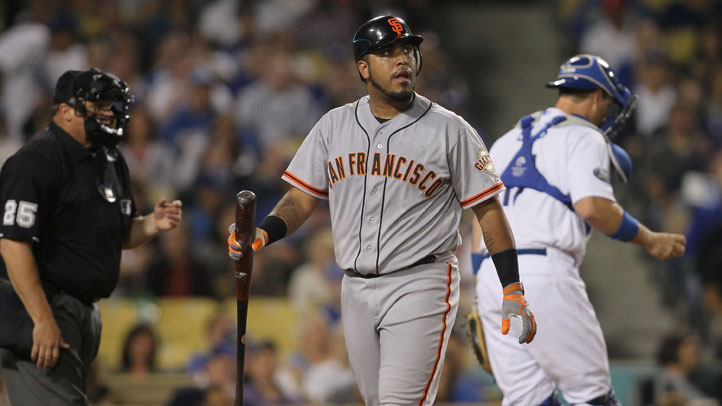 Through 50 games of the 2012 MLB season, the Los Angeles Dodgers have the best record in baseball at 32-18. Please travel back in time to 2011 and inform lots of baseball writers, fans and anyone who will listen that this is happening in the future. They will either laugh at you, walk away from you or call the cops. And maybe all three of those things.
As a result of this improbable run by LA, the Giants are three games above .500 and yet still 5.5 games back of the division-leading Dodgers. But San Francisco's got a window starting to open, and there's a good chance of the Giants making a run.
First off, there's the fact that the Dodgers are playing above their collective head; this team simply isn't the best team in baseball and they've got to re-enter Earth's stratosphere at some point. Expect that to start happening with Ted Lilly (5-1, 3.14 ERA) heading to the disabled list and all-world slugger Matt Kemp likely headed back to the DL after re-injuring his hamstring on Wednesday night.
Adding to the Dodgers woes are a 10-game road trip beginning Friday (if they can avoid a sweep at the hands of the Brewers on Thursday night) and then a return to LA to face the very warm Angels and surprisingly hot White Sox. They get the Athletics three times after that, and then the Angels three more times before a three-game stand in San Francisco beginning on June 25.
The Giants, on the other hand, have a friendly sked to start June, with a four-game homestand against the offensively offensive Cubs and a three-game trip to San Diego. Three against the Rangers is tough, but the Giants get six-straight games against the Astros and Mariners, before traveling to the Angels and then the Athletics ... with the Dodgers on tap after that.
Schedule prognostication is quite difficult, of course, because of injuries and flukes and Tim Lincecum's decision not to be a great pitcher.
San Francisco is getting healthy -- Pablo Sandoval is expected back soon -- and has dealt with one of the worst stretches of Lincecum's career. The Dodgers are getting injured and are a strong candidate to start regressing to the mean.
If the Giants can take advantage of a friendlier schedule than the Dodgers during the early parts of June, continue manufacturing runs and get standard pitching from Matt Cain, Madison Bumgarner and Ryan Vogelsong, there's a distinct possibility that the Giants could welcome the Dodgers in late June with first place in the NL West on the line.
For a team that's played well -- but not great; the Giants are in the thick of the wild-card race -- that should be the sort of motivation to really fire up a winning streak.