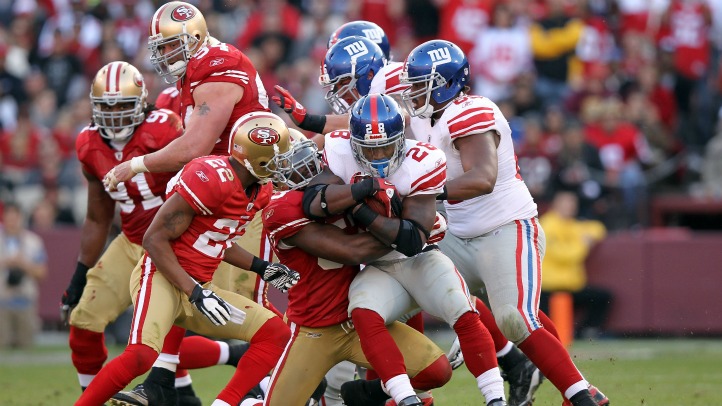 Time to man up and pick these games. The best thing about picking games is when you tell people your picks and they get all mad at you if you didn't pick their team to win. HOW DARE YOU NOT PICK THE RAVENS, YOU JERK?! I wish I could pick against all four teams this weekend. That would be the ultimate troll move.
Alas, this is a legitimate network-affiliated site, and thus trolling is not encouraged. Here we go.

Giants vs. 49ers: I feel lousy picking against either of these teams. By picking either the Giants or Niners to win, you have clearly disrespected and underestimated the other. I don't want to pick against the Giants after what they did to Green Bay. And I don't want to pick against the Niners after watching that defense concuss virtually every player on the Saints offense.
I have no idea how that defense got so good so quickly. Suddenly, there are like nine Pro Bowlers on that unit. If Jim Harbaugh wins this game, that pretty much ensures that he's the greatest rookie coach of all time.
Alas, I'm picking the Giants, because they have the front four needed to frustrate Alex Smith, and because it's unwise to pick against Eli Manning, who morphs from mild-mannered schoolboy into godless killing machine once every four years. By the way, when these two teams meet in the playoffs, exciting things happen (see: 2002, 1990).
GIANTS 20, NINERS 17.

Ravens vs. Patriots: I went deep into this yesterday: Joe Flacco isn't getting any better. He may have beaten the Pats at Foxboro once, but this isn't that Patriots team. Tom Brady sees a golden opportunity to get his fourth ring, and he'll have the Magnum Look going for this one.
If the Pats blow out Baltimore, look for them to be favored in the Super Bowl by six points or so.
PATRIOTS 38, RAVENS 13.